Prologue:
After our arrival in TPE, we proceeded straight to the connecting flight to HKG at gate B7. I did not attempt to go to the lounge in order to minimize the hassle of requesting another wheelchair again and just waited at the gate.

I was not impressed with TPE and thought that it really lacked natural light. It felt like I was inside a claustrophobic maze with endless corridors and this airport was so different from its Asian counterparts. When you have been to HND, ICN, HKG or SIN and then step into TPE then you ask "what happened"?

When I first booked this itinerary the TPE-HKG segment was operated by a 777 with PEY cabin. That is why I chose it since we would still be in the same cabin type going to HKG. Eventually the plane was changed to the new 787 and to my surprise this new plane only had J and Y cabins. I thought that the 787 would be used for long haul routes and PEY would be offered. The change did not matter much to me since this represented a golden opportunity to fly on a new aircraft.
Gate.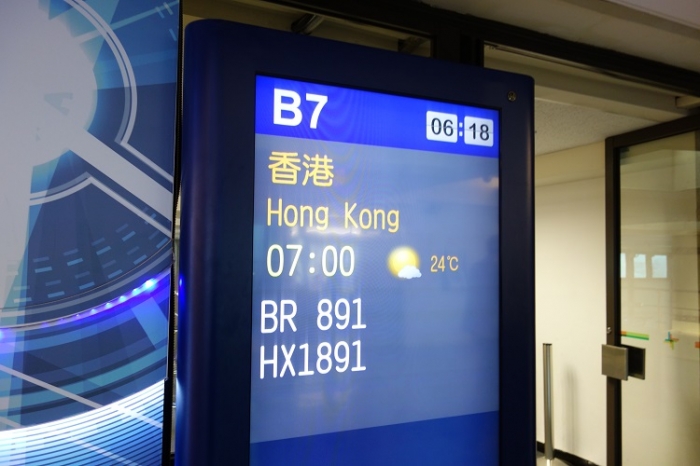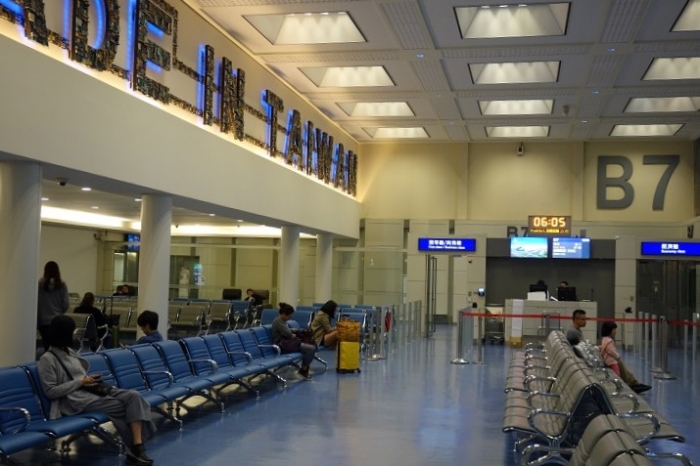 From B7 it was impossible to view the plane so I moved to the gate next door and was able to get a partial view of my plane.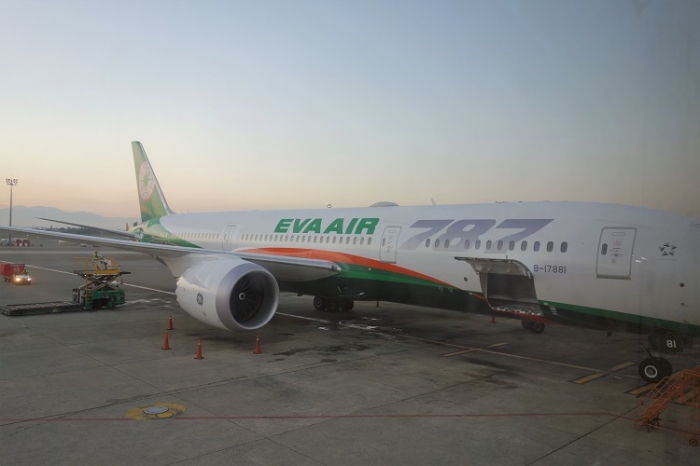 Boarding started 30 min. before departure and we were the first ones allowed inside the plane. There was a cart with newspapers at the end of the jetbridge.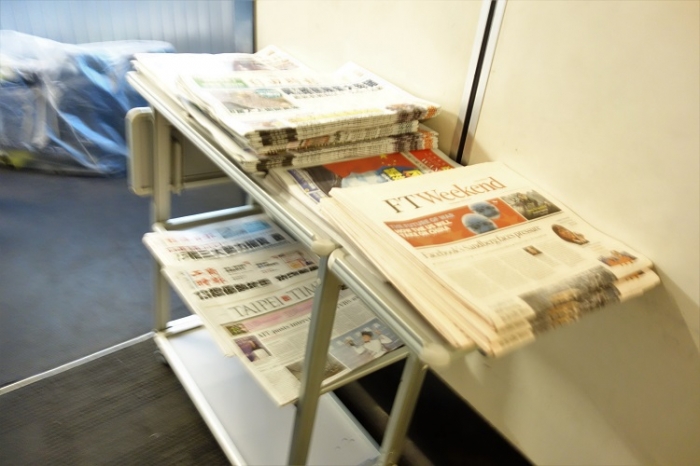 Two FA's were positioned at the door greeting pax and one of them escorted us to our seats.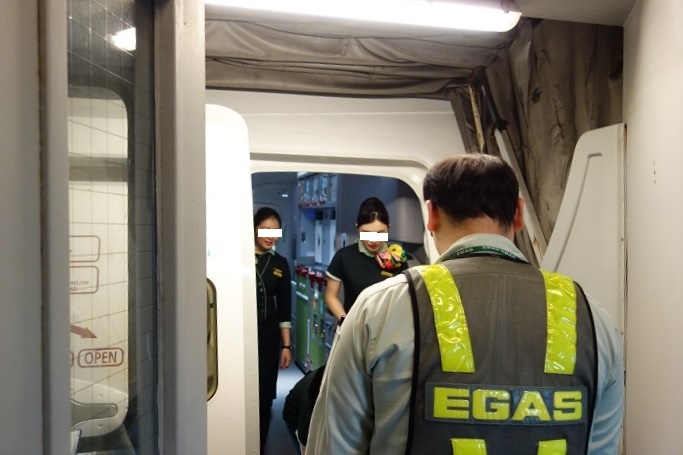 The economy cabin looked roomy and comfy with its Recaro seats. Each seat had a packet with earphones and we decorated in a geometrical pattern with touches of green and orange.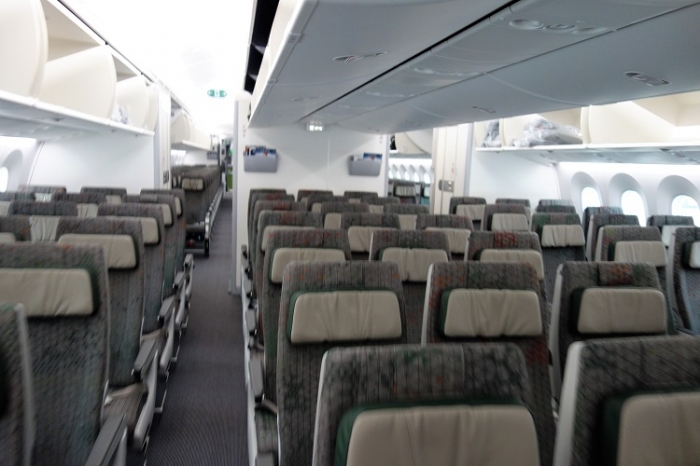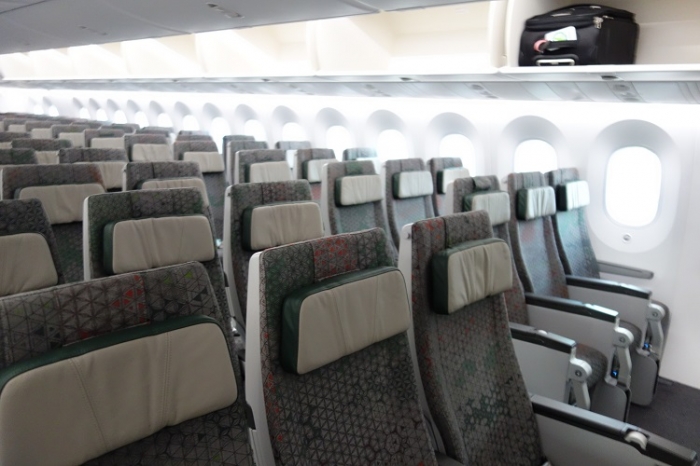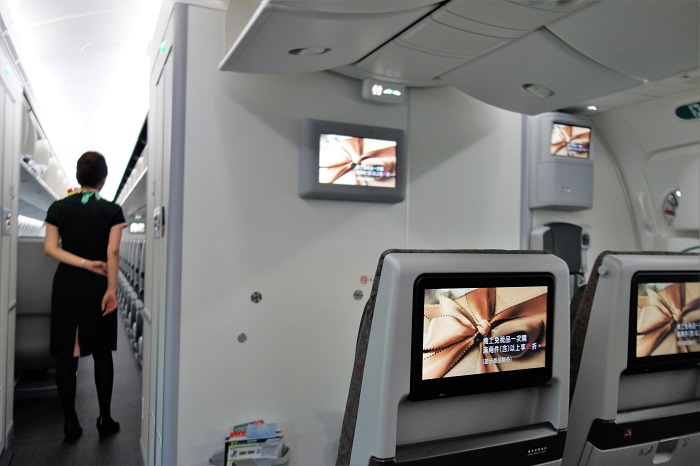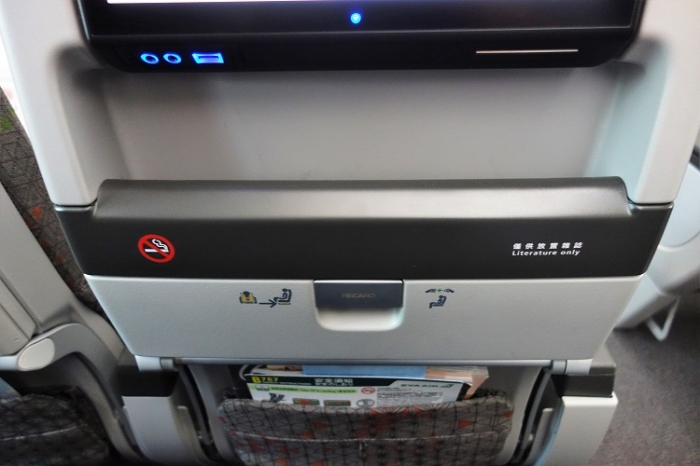 The screen was of decent size and it was touch sensitive.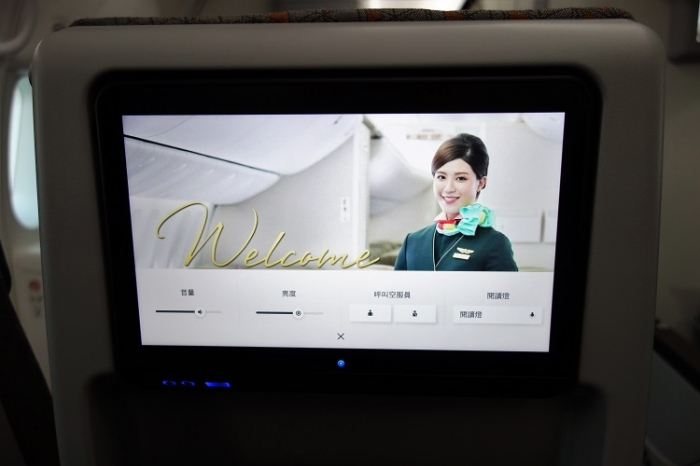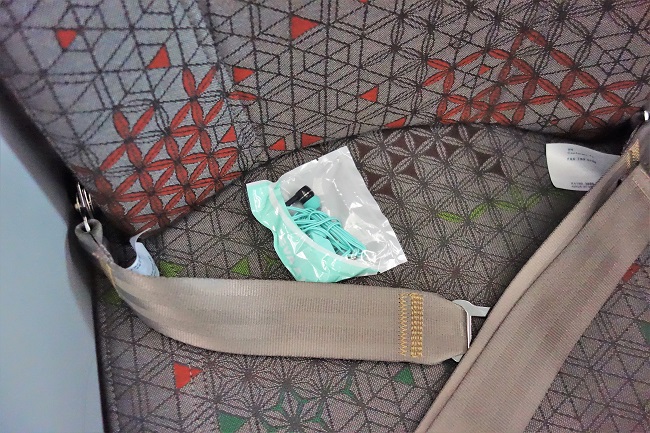 We were seated in row 42 which was located in the 2nd Economy cabin. A few passengers were seated nearby but overall the flight was empty so I moved to the back to get a window seat in a whole row for myself. FA's were proactive in helping pax find their seats and store their luggage.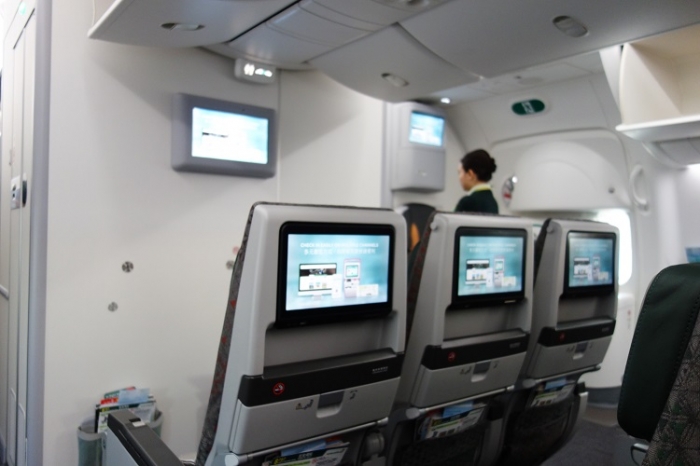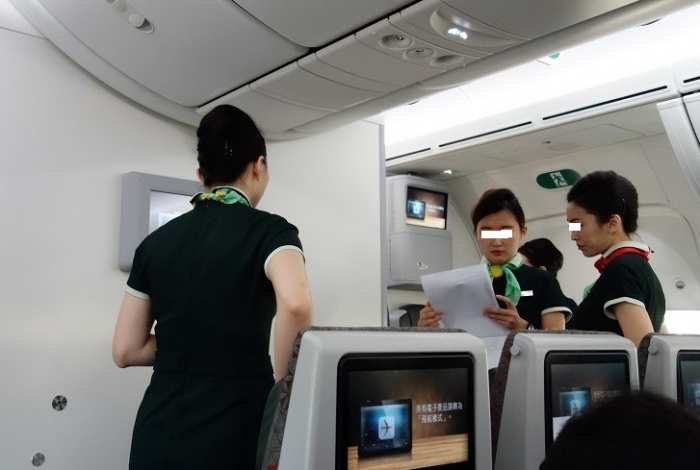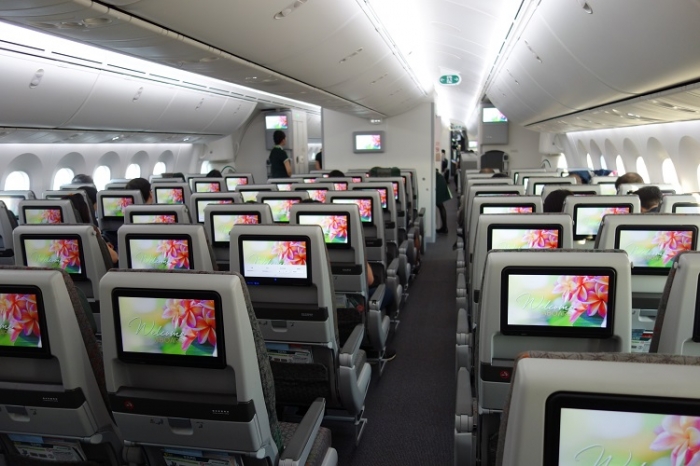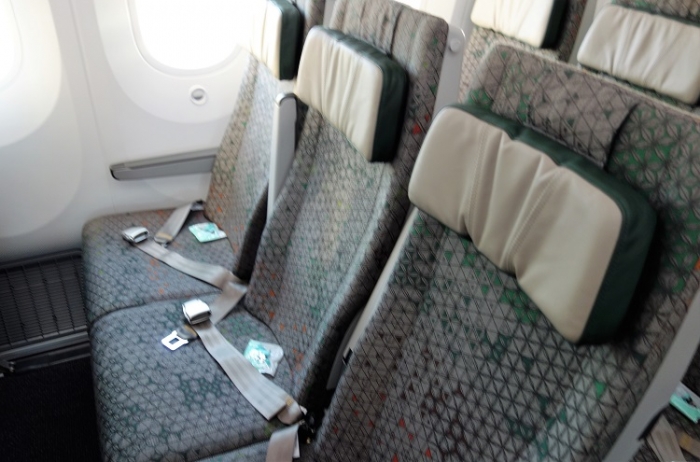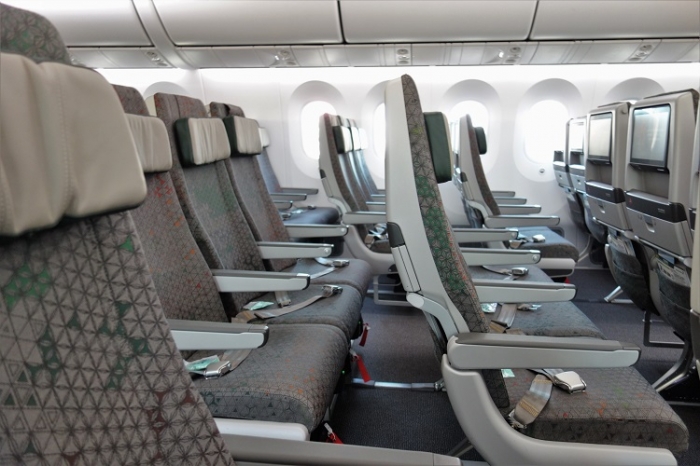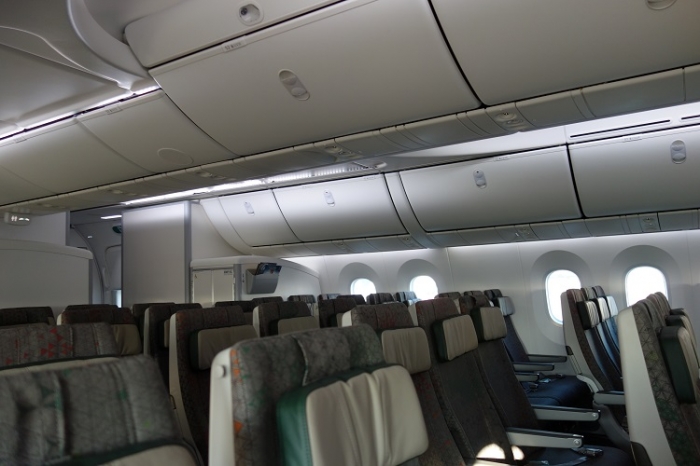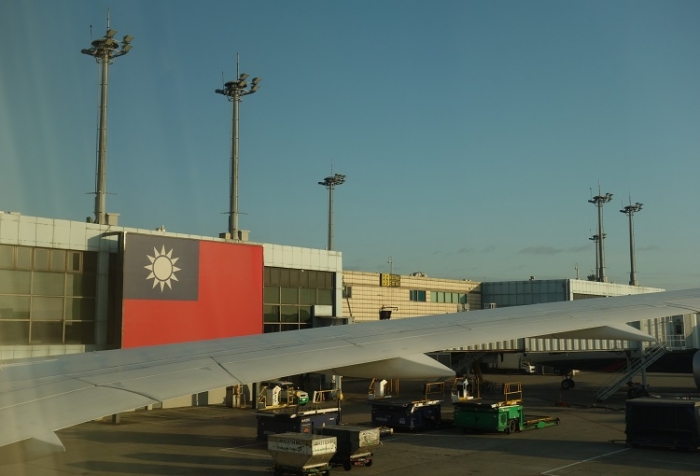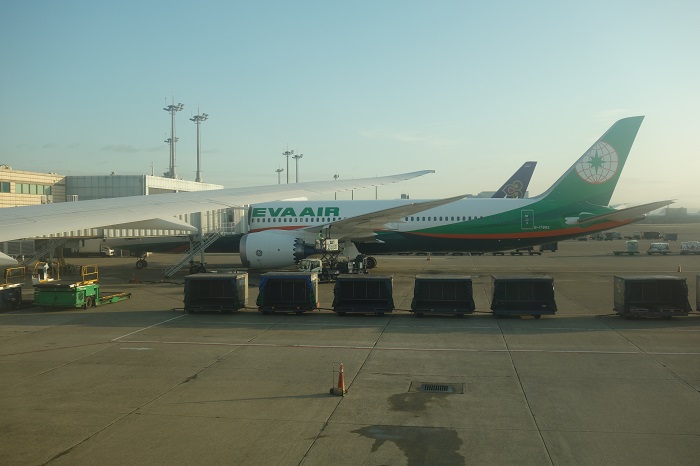 i found the separate partitions in the seat pocket useful for storage unlike the PEY one on the 777.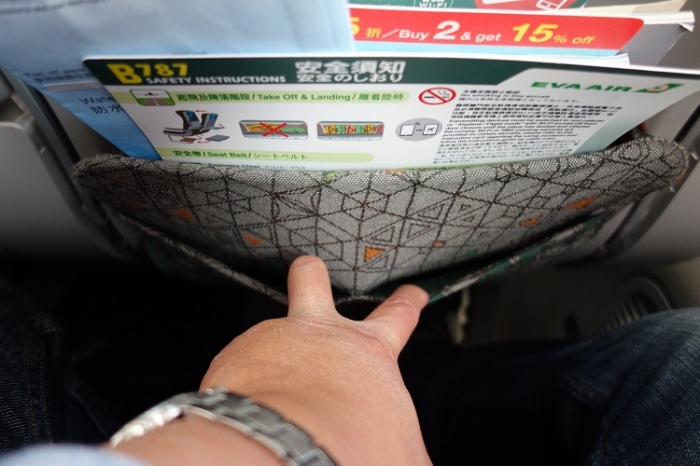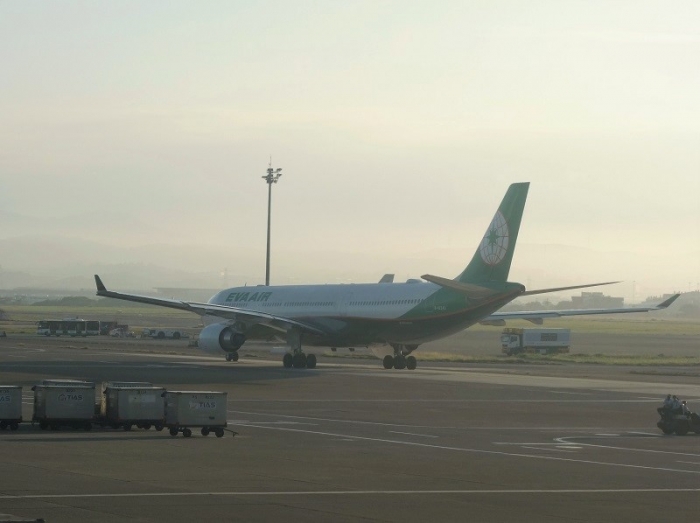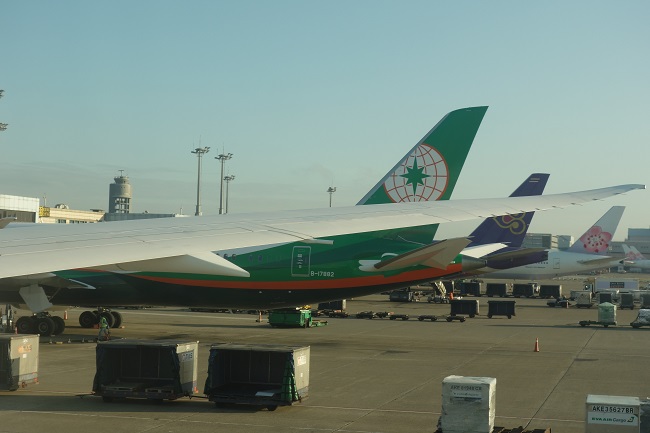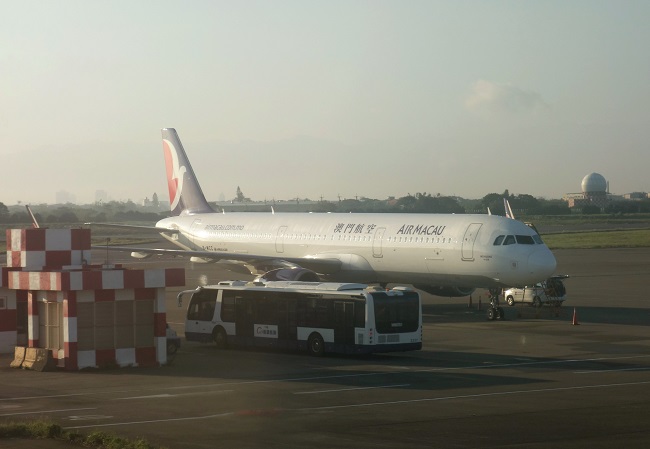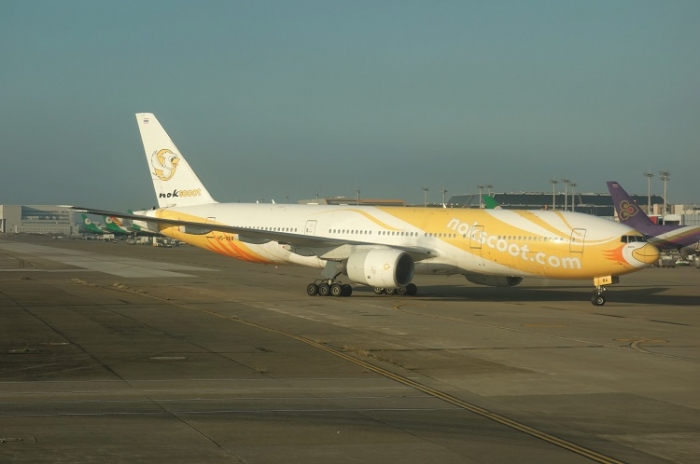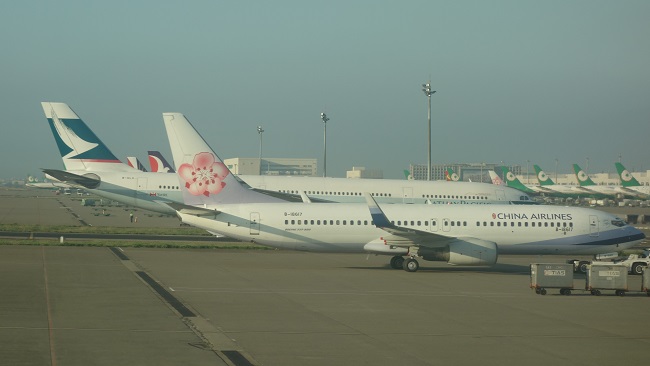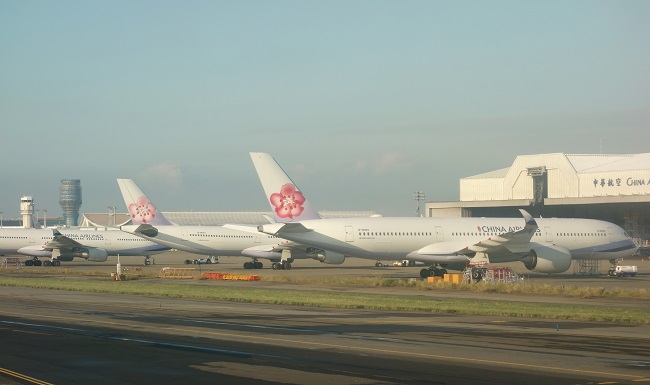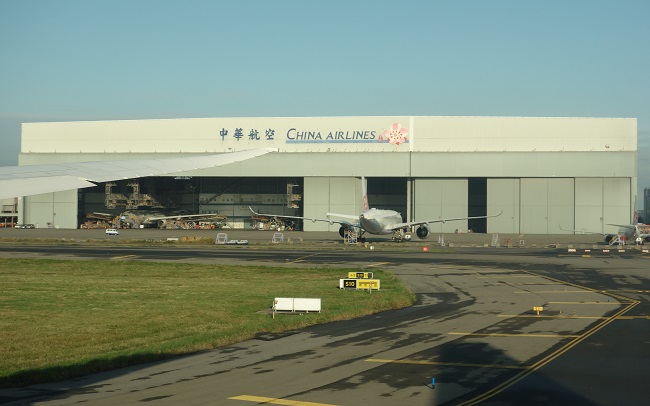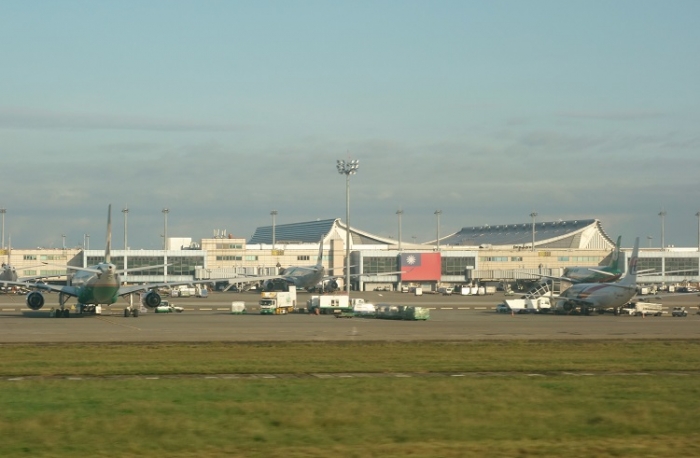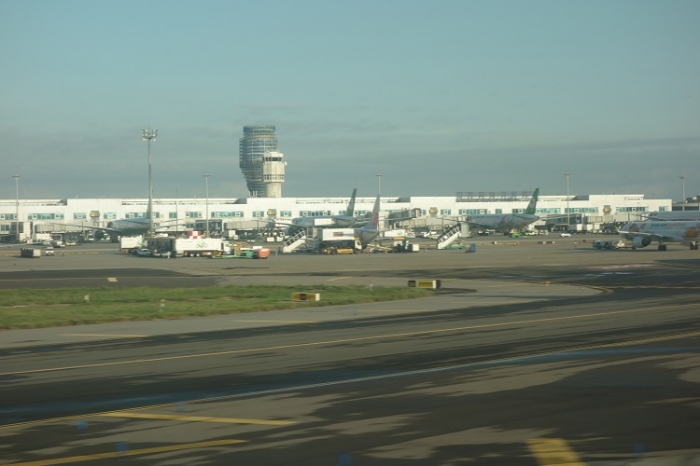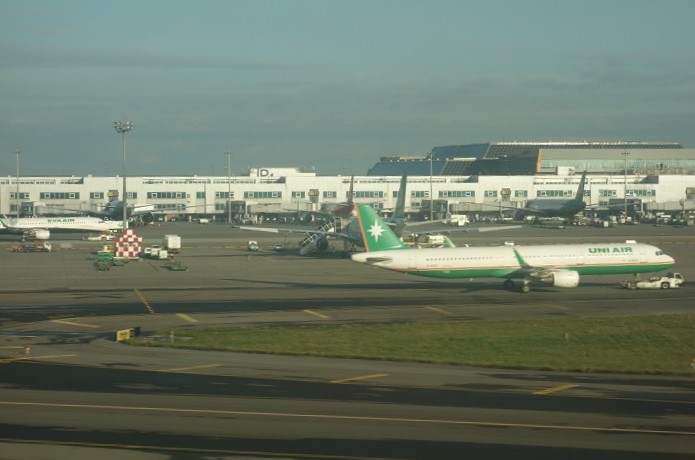 Take off.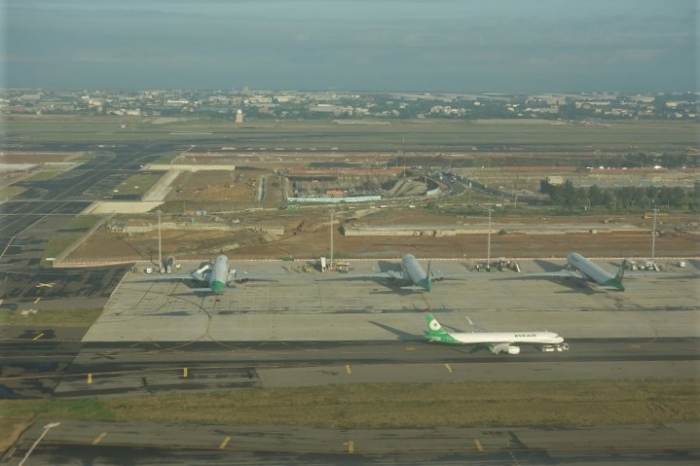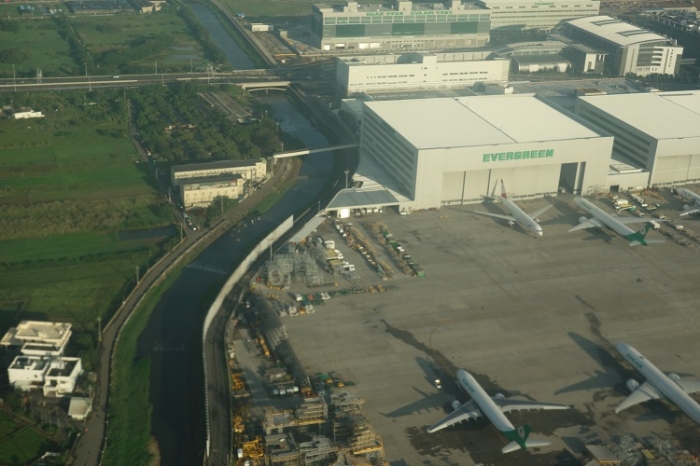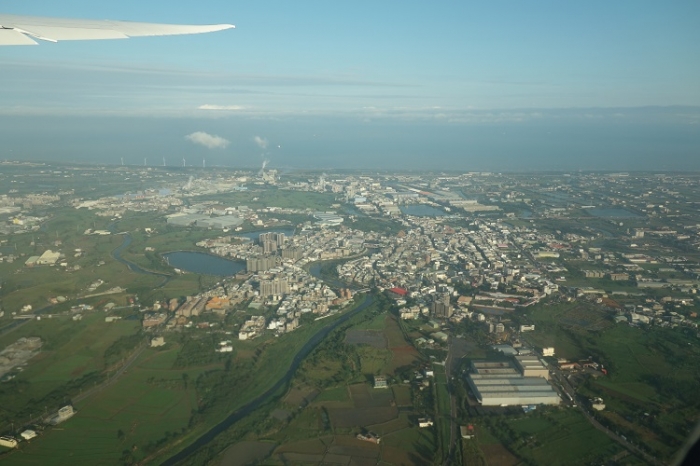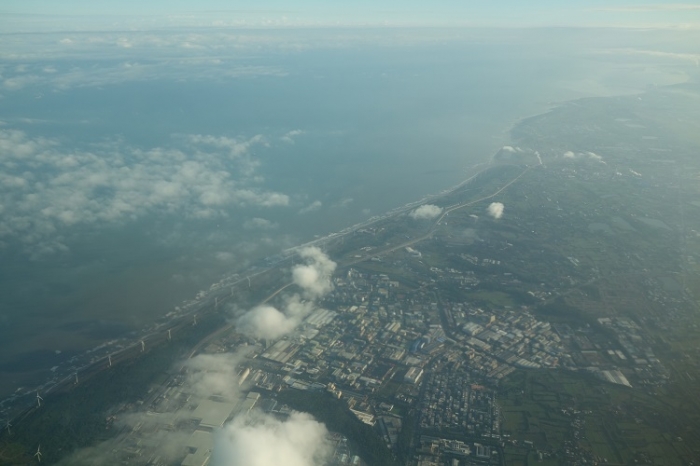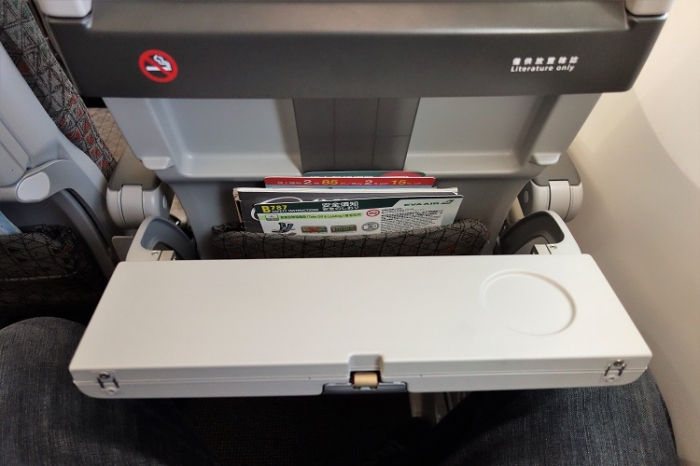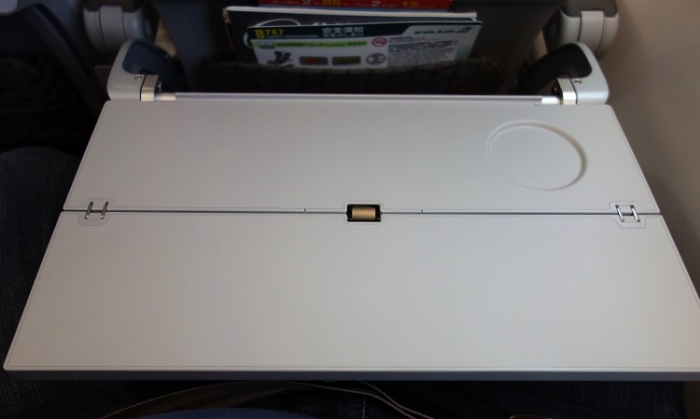 Seat pocket contents.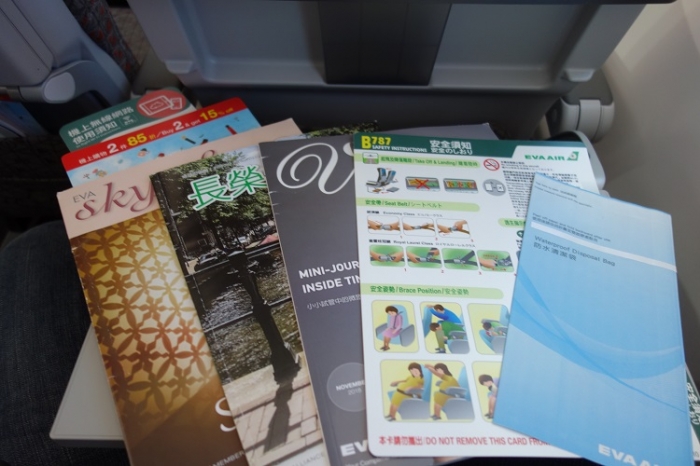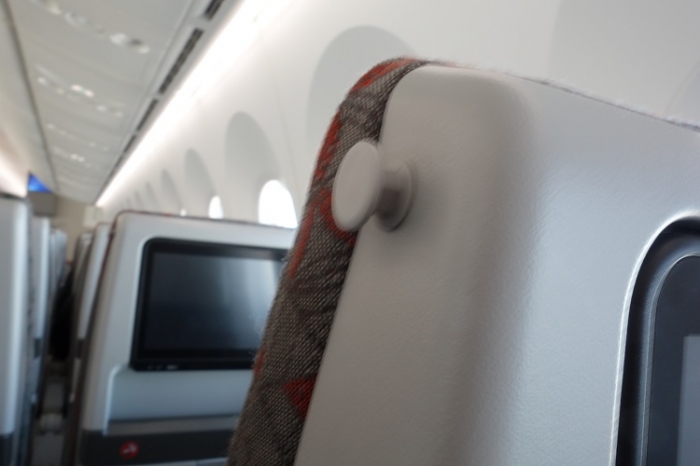 Reading light control is located on the menu screen and not on the armrest.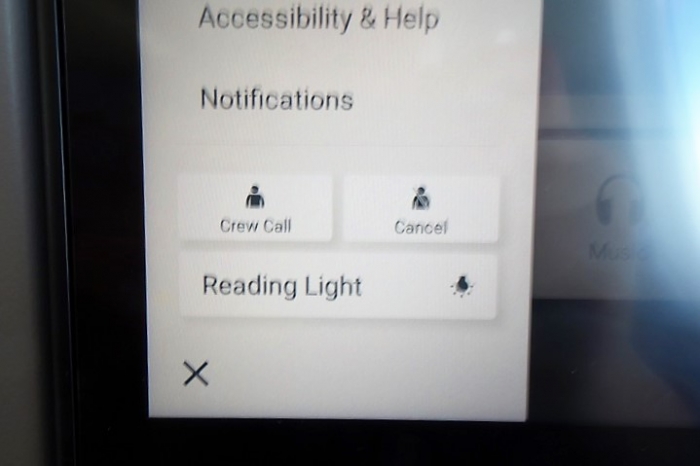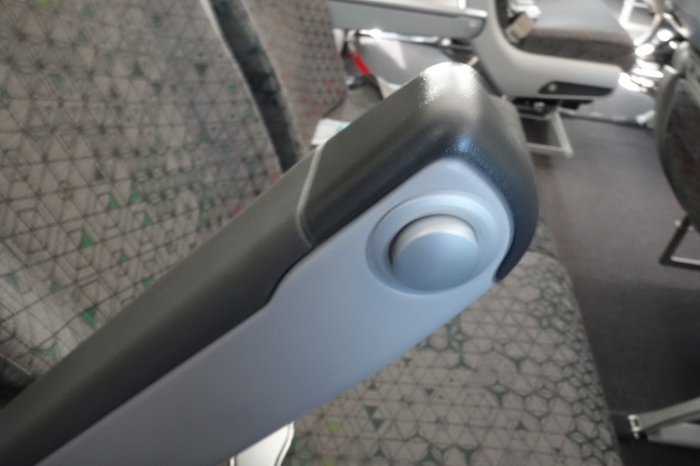 Socket for your electronics under the seat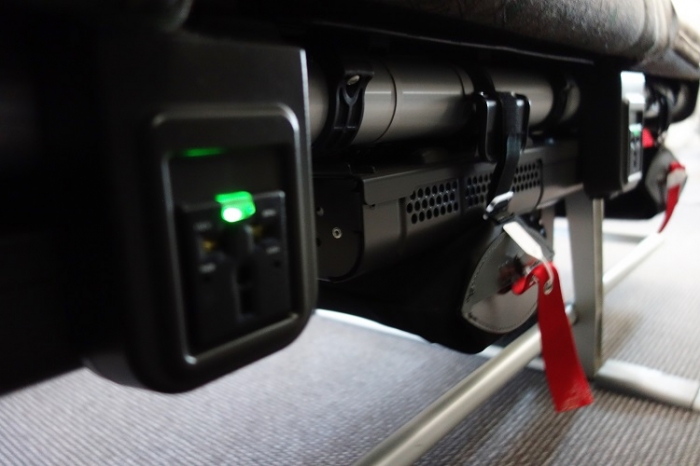 FA's started to distribute the special meals first and then followed up with a snack and drinks for the rest of us.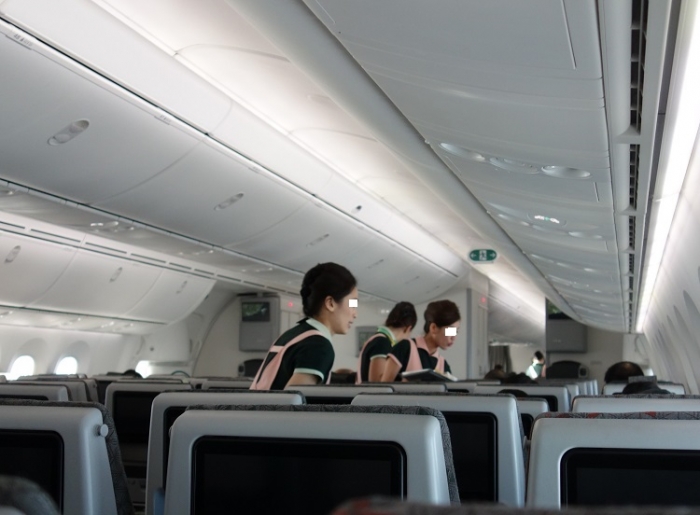 The snack consisted of packaged baked goods. I thought that it was a bit frugal considering that the competition offered a hot meal or even some type of sandwiches. However coming from the USA it was appreciated that something was served for free for this quick flight especially with a full set of silverware. ;)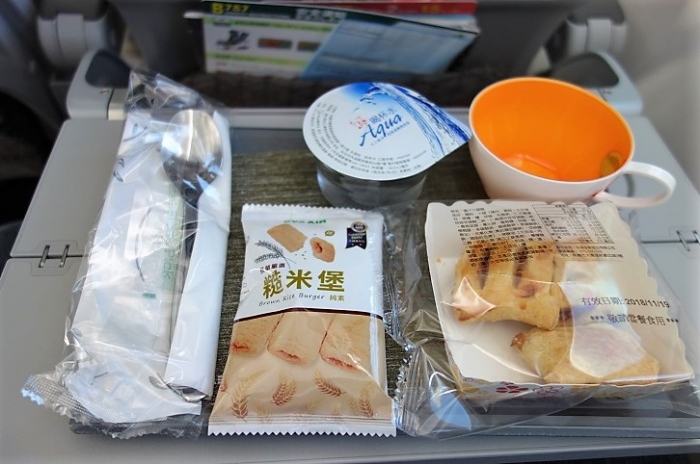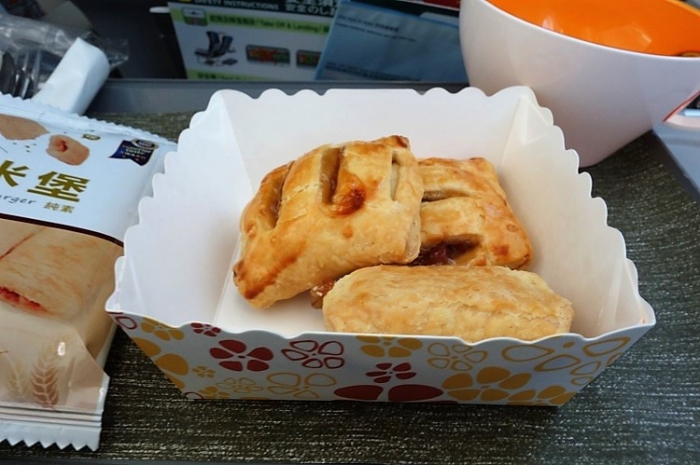 Brown rice burger? Something is lost in translation. It was some sort of sweet pastry that did not taste bad though.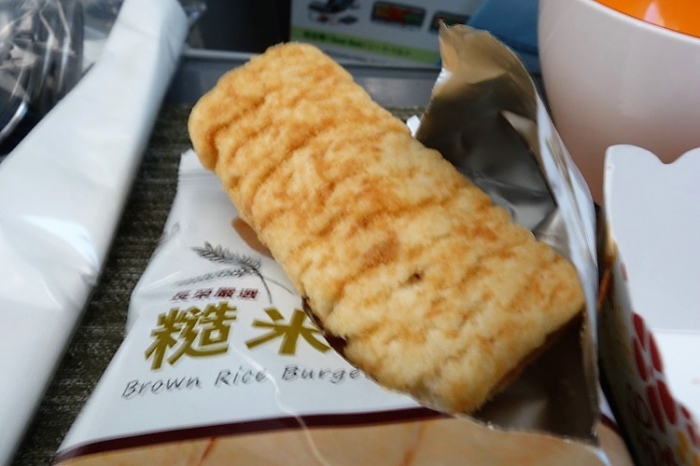 WC.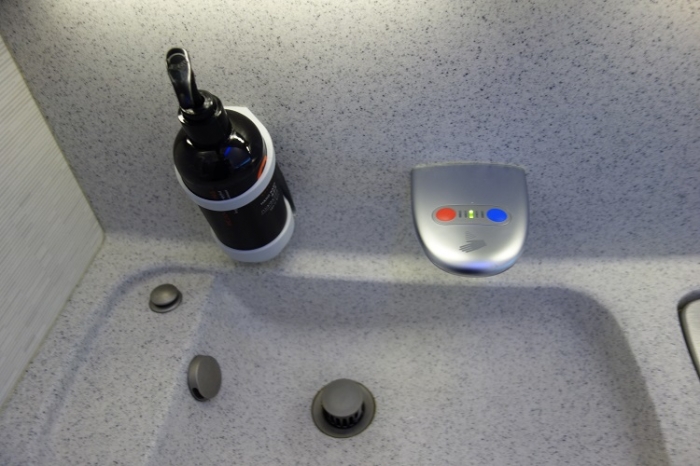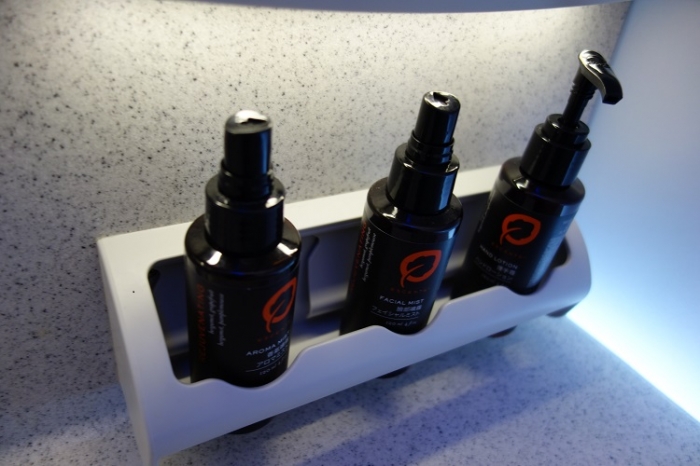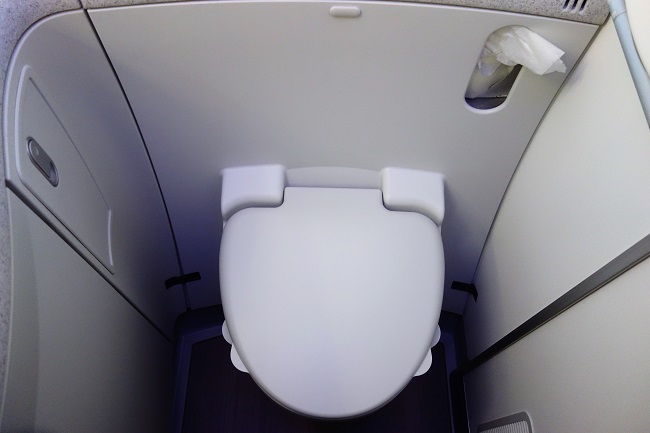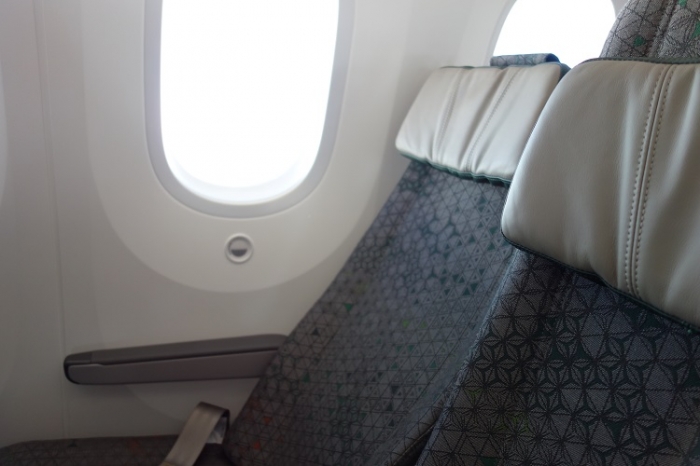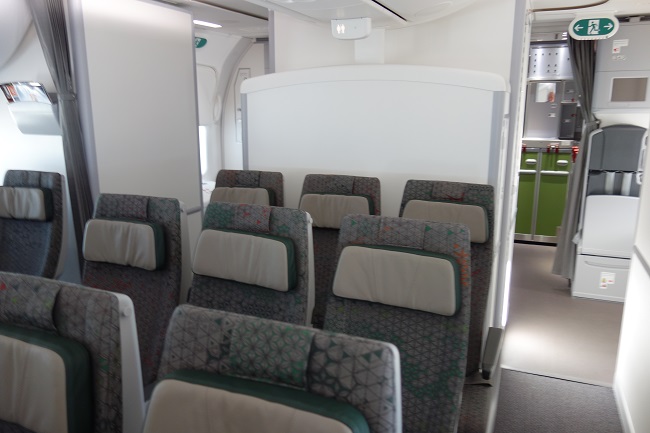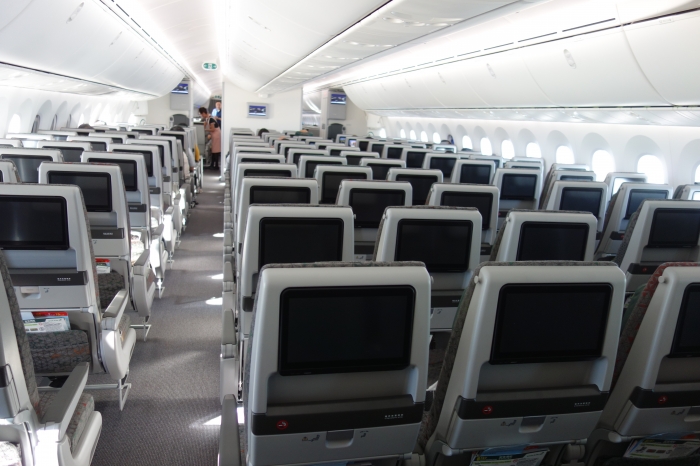 Windows darkened.
In preparation for landing FA's made sure that seats were in the upright position and that bins were closed. I have never seen an airline so focus on making sure that bins were completely closed and several FA's rechecked this.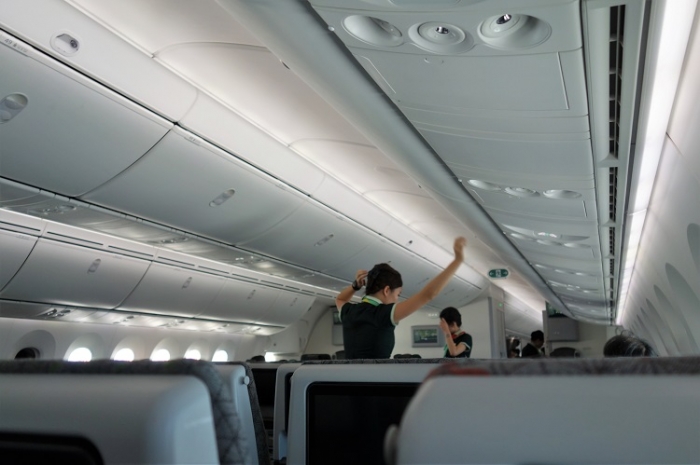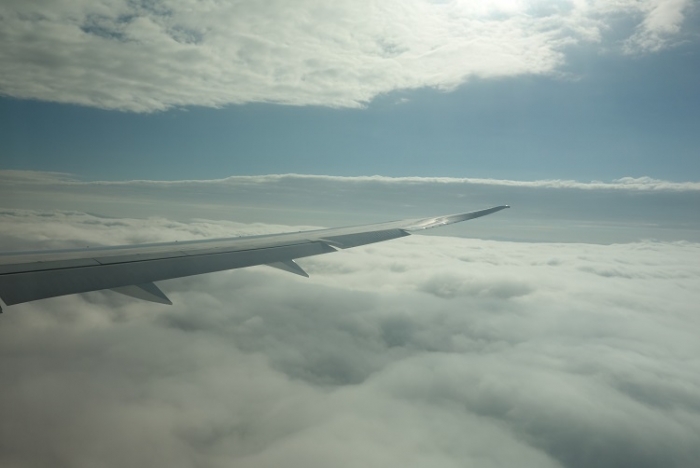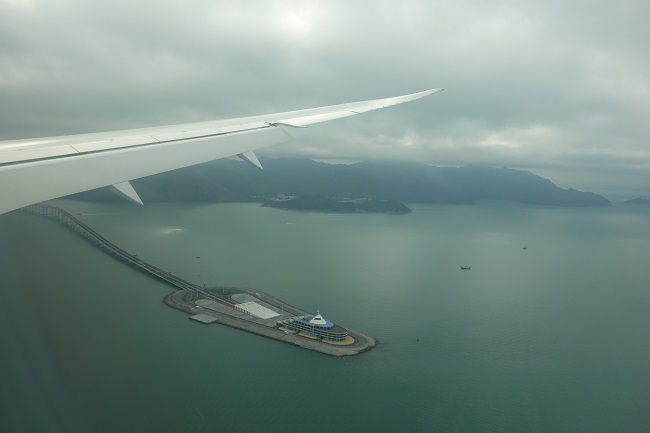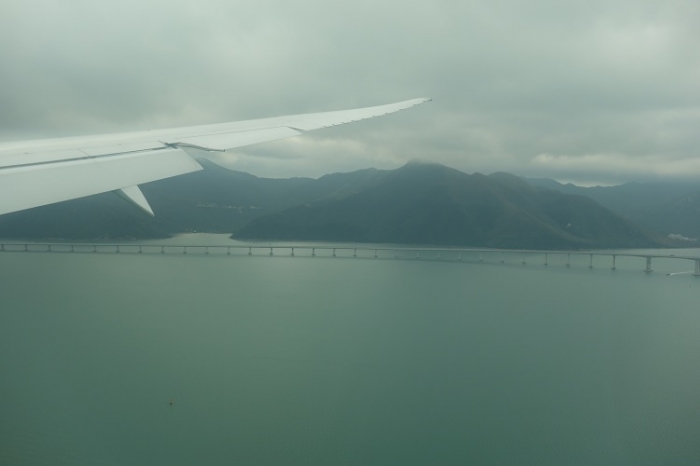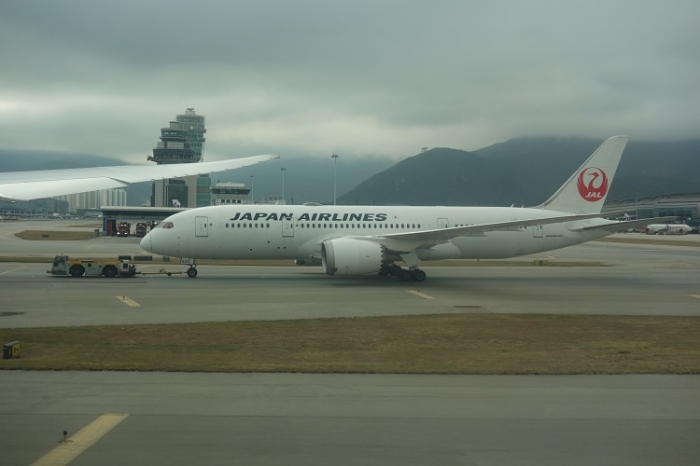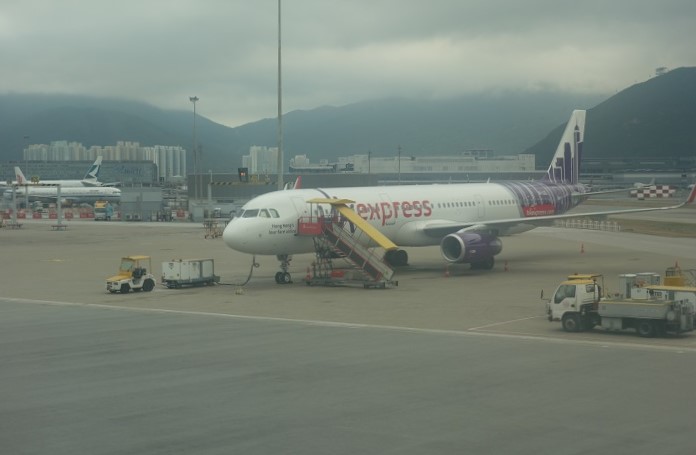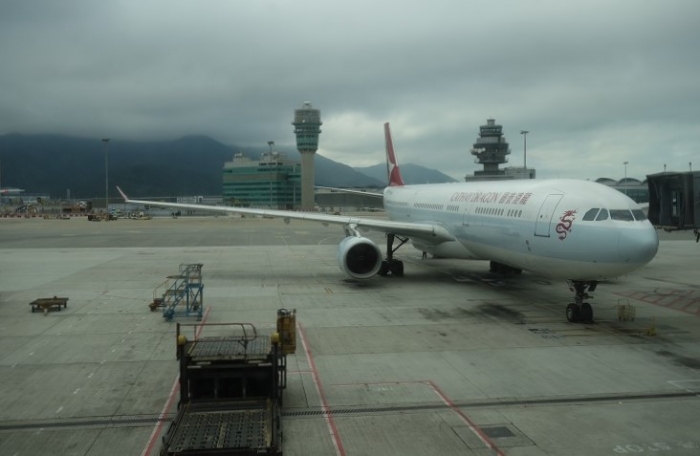 ========== Taiwan Taoyuan Intl Arpt (TPE) - ==========
Security/Immigration efficiency:
9/10
Services and activities:
9/10
General cleanliness:
9/10
========== EVA Air - Airline ==========
On-time performance:
10/10
Breakfast or light meal before arrival:
0/10
========== Hong Kong Intl (HKG) - ==========
Security/Immigration efficiency:
9/10
Access and parking:
10/10
Services and activities:
9/10
General cleanliness:
10/10
Summary:
It was exciting to fly on BR's new 787-9 on this short hop and this came as a surprise since it wasn't expected. The interior of the plane had a roomy and comfy feel in Y and I think that the controls of the seats are user friendly.

Service was very efficient and attentive. I'm sure the light load contributed to this and high number of staff did not hurt.

Catering was a bit light especially when you compare it to what the competition offers. I think something a bit more substantial than industrial snacks should be given. Having said that, the fact that something is given on a flight of this length is appreciated