Prologue:
Hello and welcome to this report of my first flight on a JL 787-8.

When I took this trip in 2016 I have originally used award miles for a HND-SFO tkt on JL, but upon finding a USD 378.66 (EUR 357.11) one way from PEK on UA flying a 747-400, I decided to cancel the award and just purchase the ticket to get more miles in my TK acct. I needed to meet the 15,000 miles within the first year of being matched into their program in order to get a second year extension and this fare was just handy.
Hola y bienvenidos a este informe de mi primer vuelo en un 787-8.de JL.

Cuando realicé este viaje en 2016, originalmente utilicé millas para un tkt HND-SFO en JL, pero al encontrar una tarifa por USD 378.66 (EUR 357.11) de ida desde PEK en UA volando en el 747-400, decidí cancelar el tiquete y simplemente compre el boleto para obtener más millas en mi cuenta TK. Necesitaba alcanzar 15,000 millas dentro del primer año de afiliación en su programa para obtener una extensión de segundo año y esta tarifa fue muy oportuna.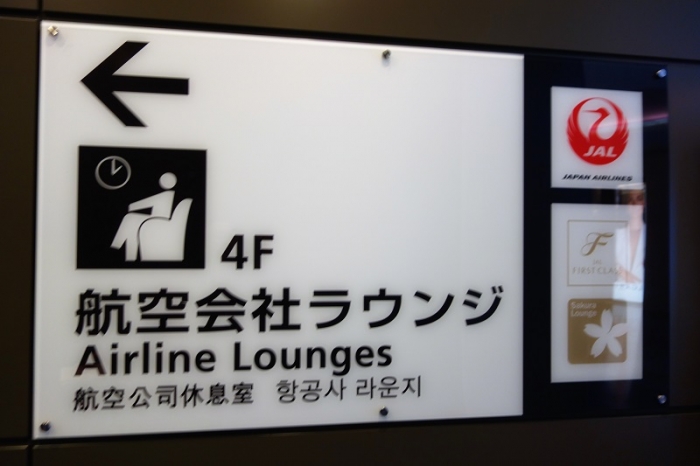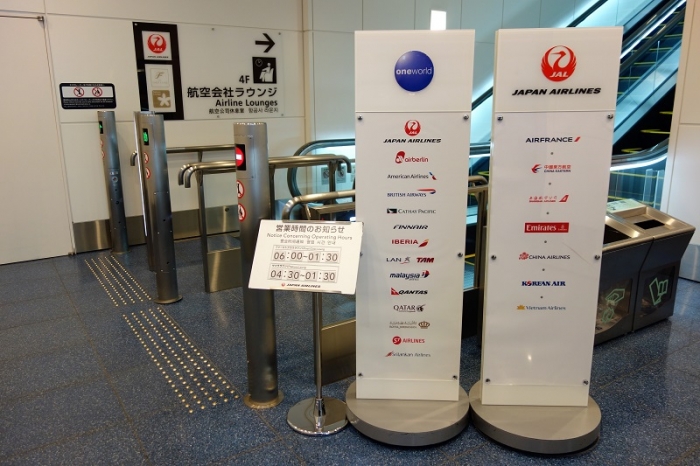 Upon entering I was welcomed by the attentive staff and invited to turn to my right and enter the F lounge. The Sakura lounge for J pax was on the same level to the left.
Al entrar el atento personal me dió la bienvenida y me invitó a pasar a mi derecha y entrar en la sala F. El salón Sakura para los pasajeros de J estaba en el mismo nivel a la izquierda.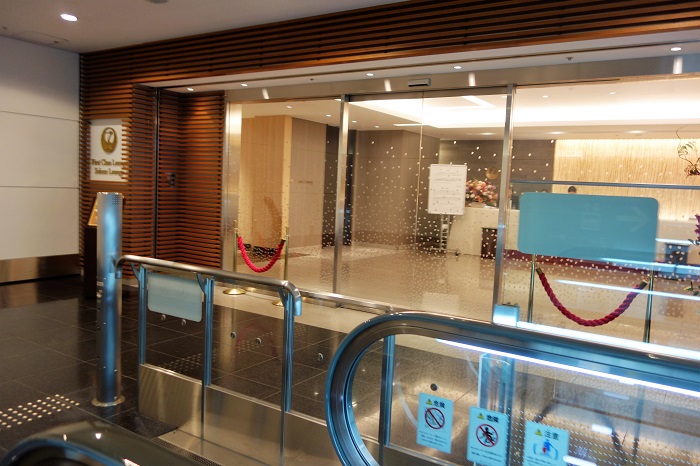 Interior.
interior.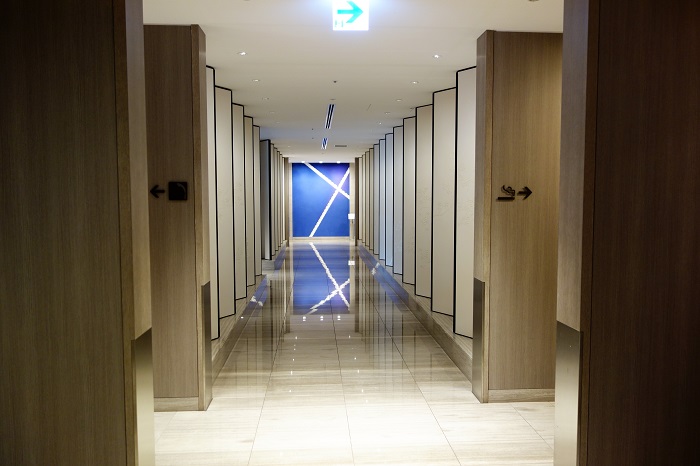 There is a business center with individual seats offering privacy before entering into the main lounge.
Hay un centro de oficina con asientos individuales que ofrecen privacidad antes de ingresar al salón principal.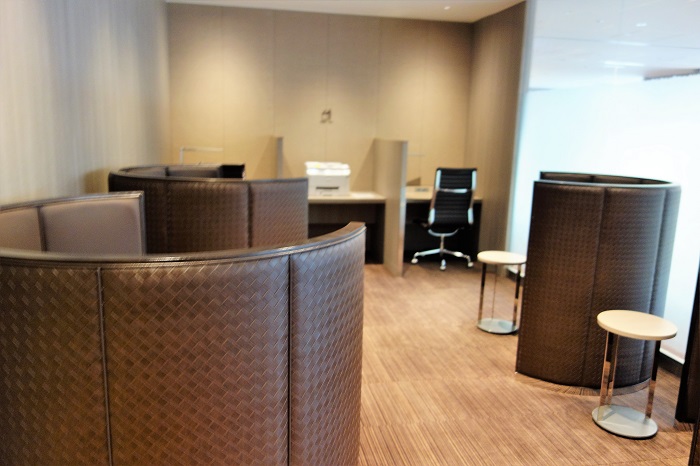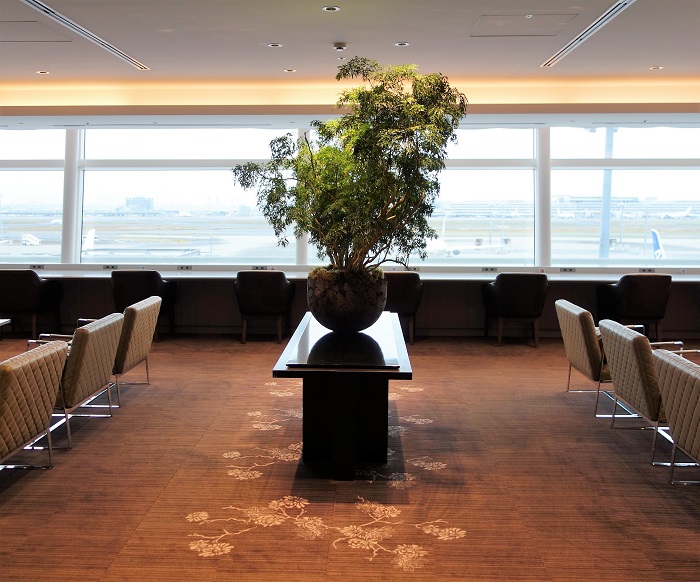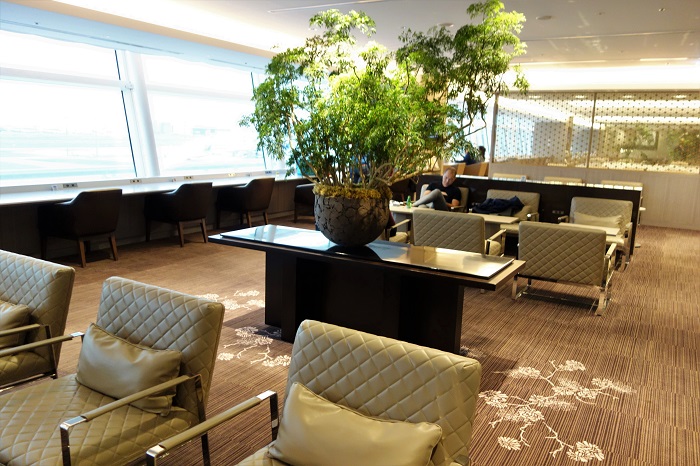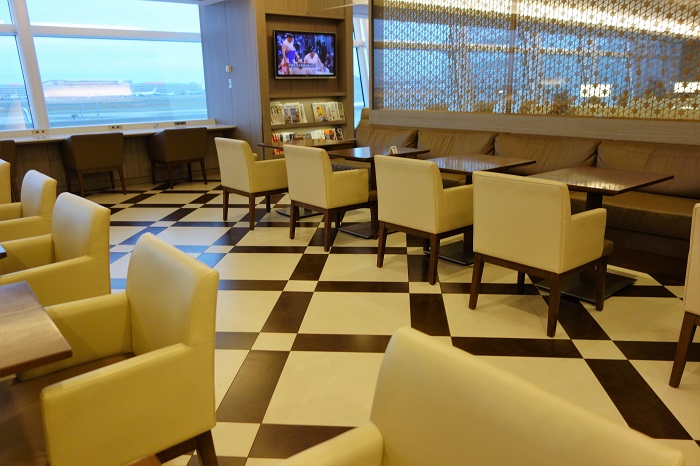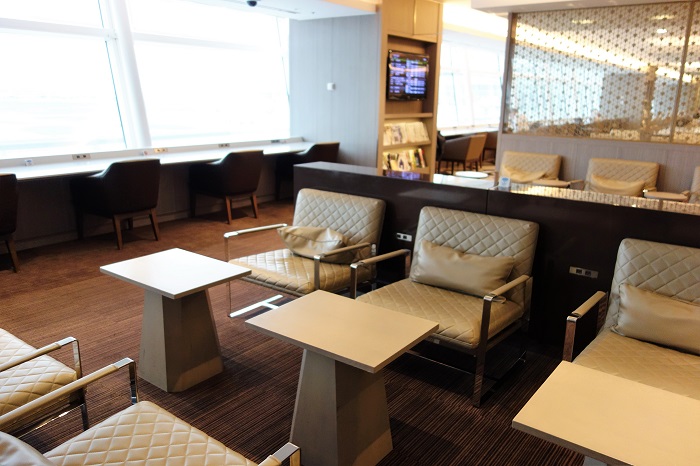 The "RED Suite" is a separate room inside the lounge and considered an attraction by itself. It is quite an unique place that combines elements of a library museum playroom and gentleman's club. Its sober and elegant ambiance allows adult pax to relax and escape from the airport environment. There was a shoe shine station but it was not staffed and a drink station with champagne sake and other alcoholic drinks.
La "Suite ROJA" es una habitación separada dentro del salón y se considera una atracción en sí misma. Es un lugar bastante único que combina elementos de una biblioteca museo sala de juegos y club de caballeros. Su ambiente sobrio y elegante permite a las personas adultas relajarse y escapar del ambiente del aeropuerto. Había una estación de lustrado de zapatos pero no tenía personal y una estación de bebidas con champán sake y otras bebidas alcohólicas.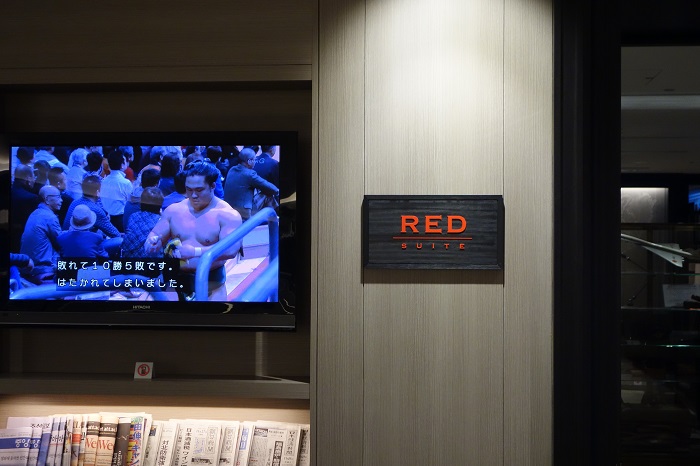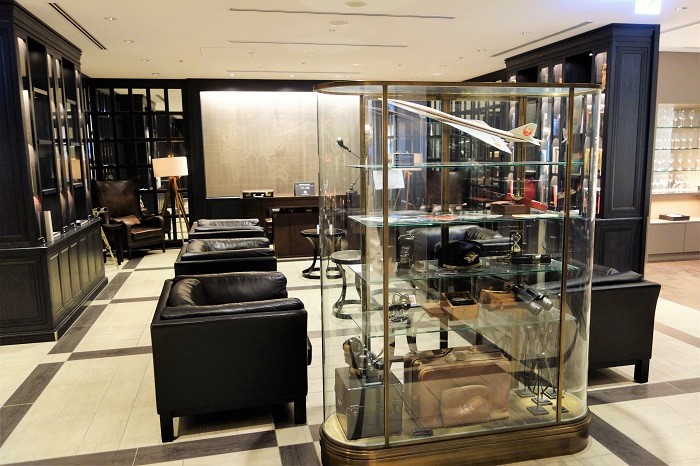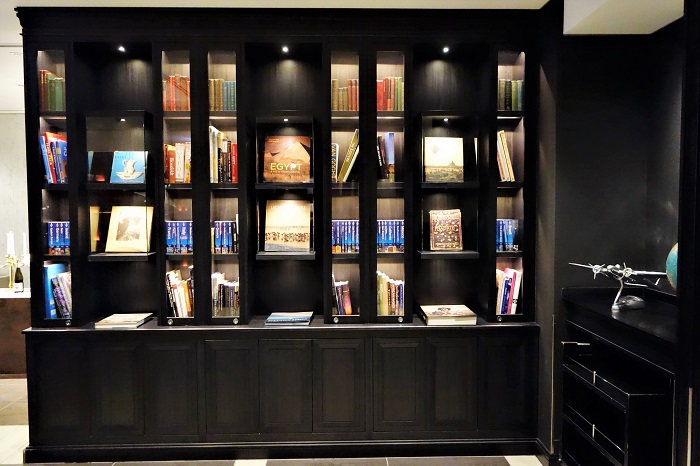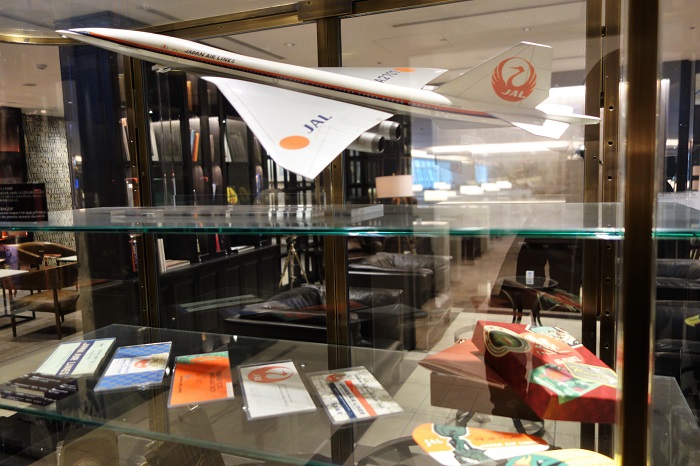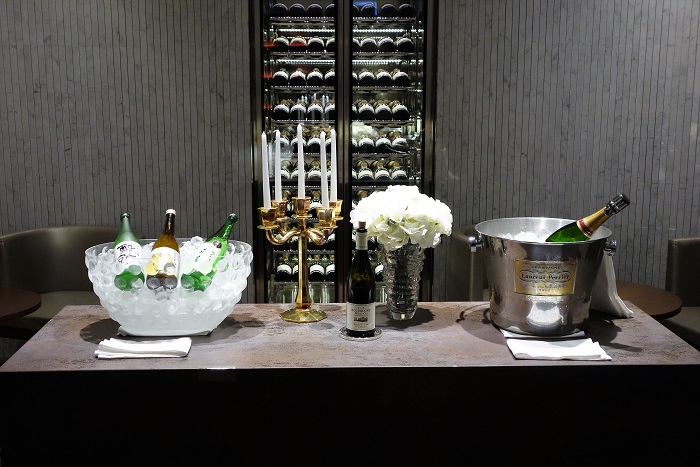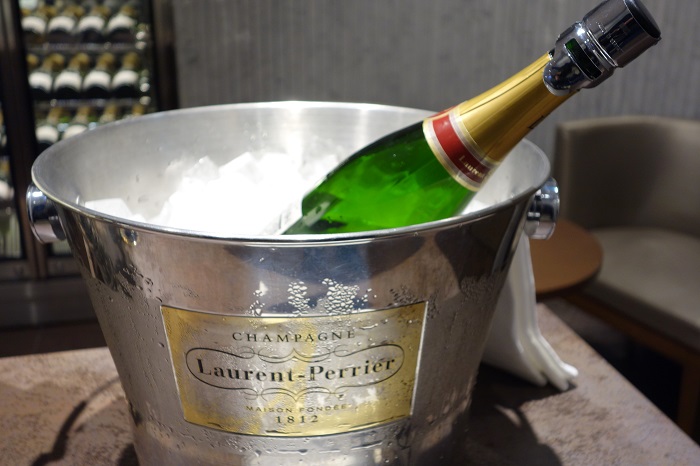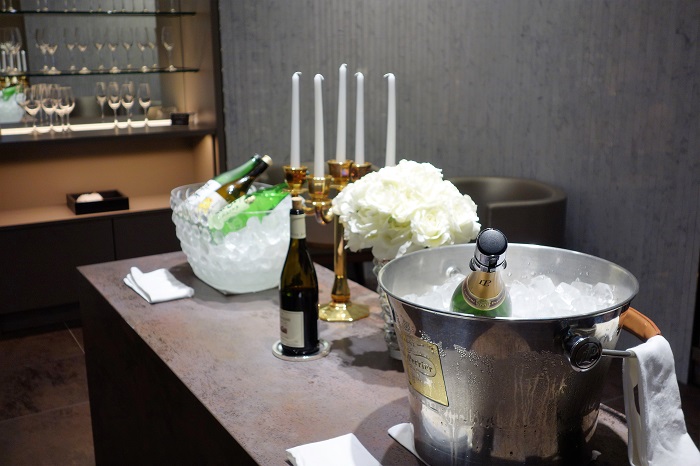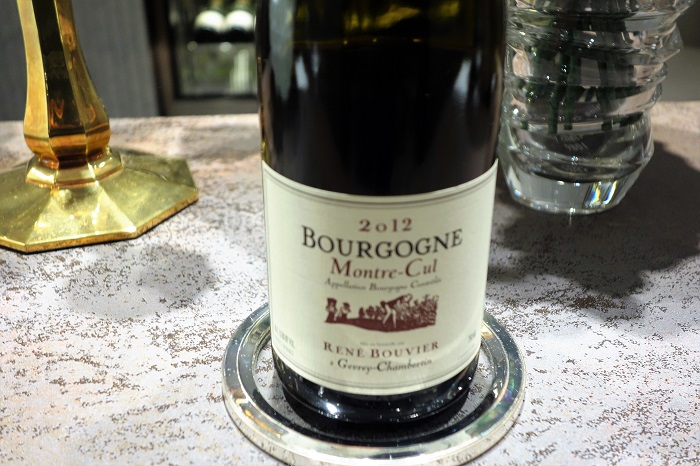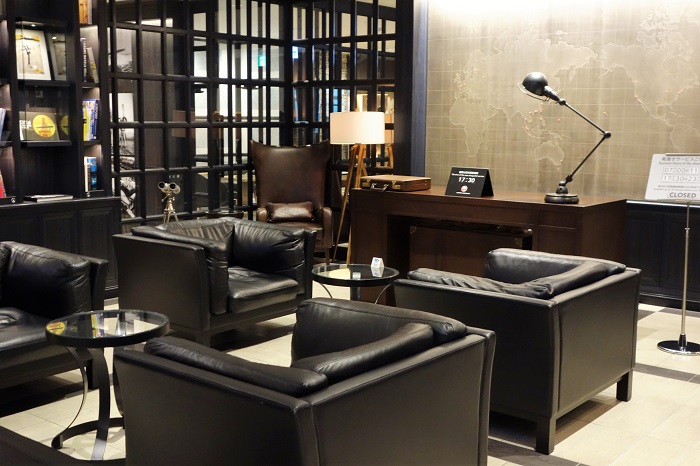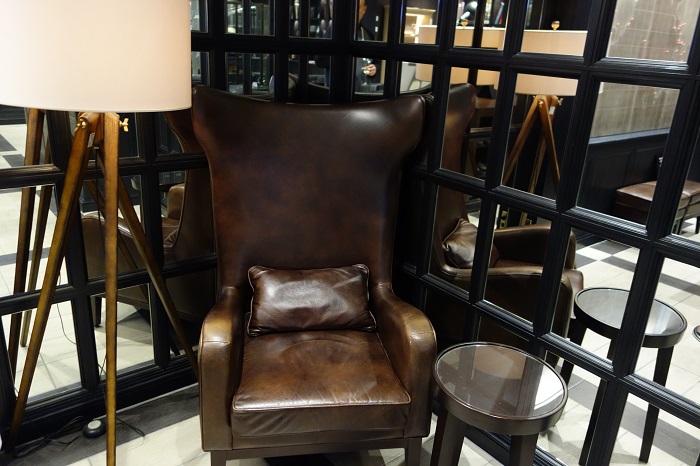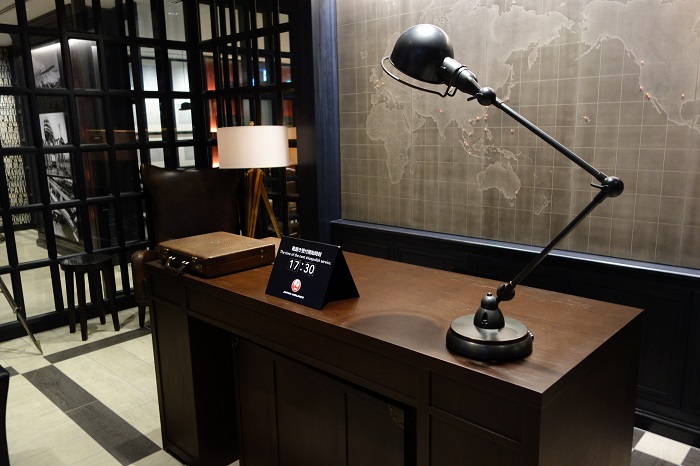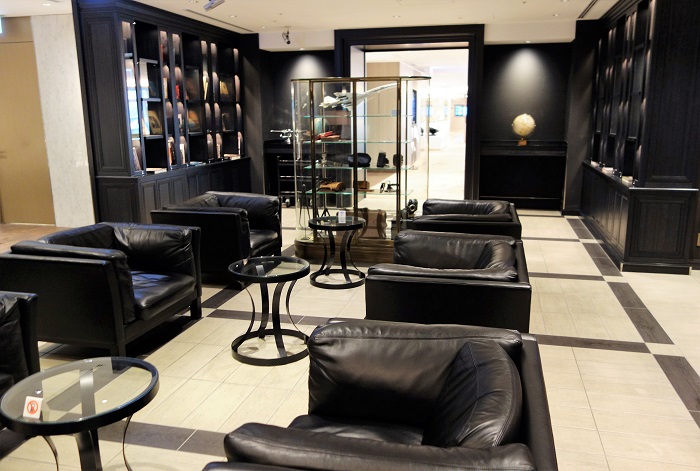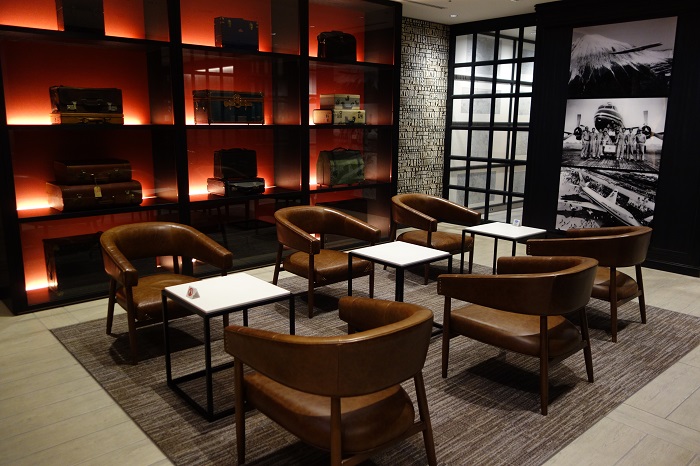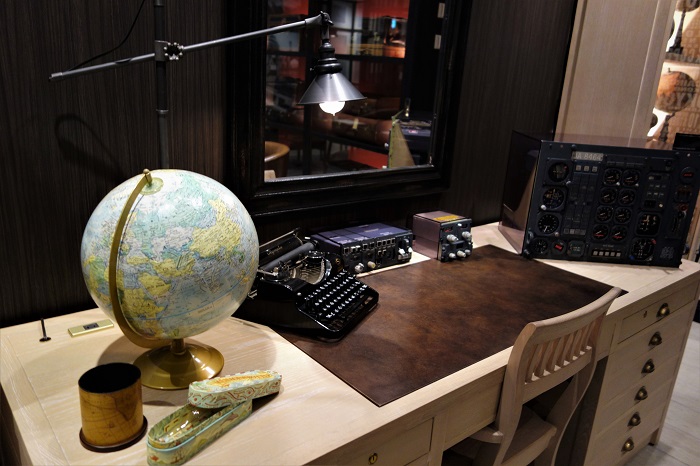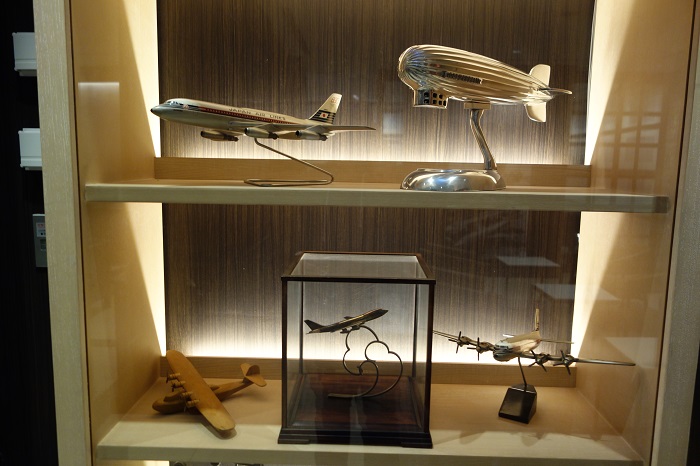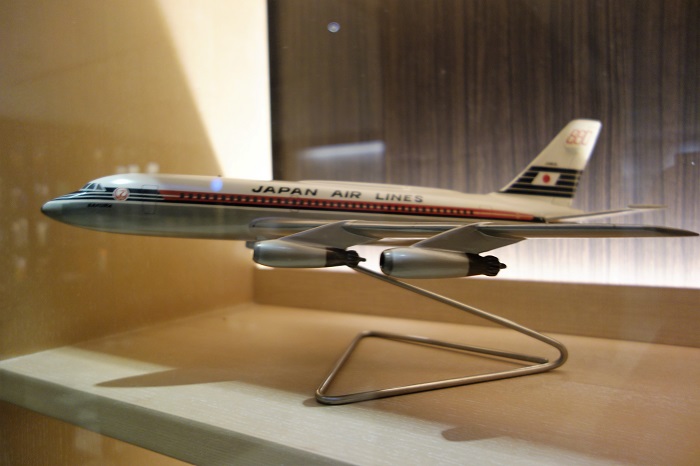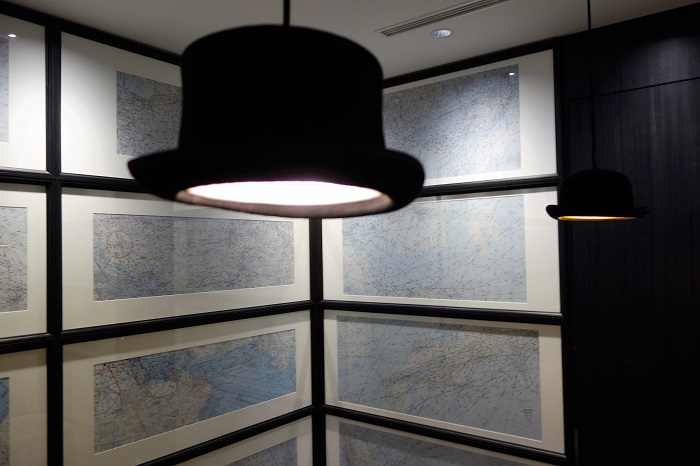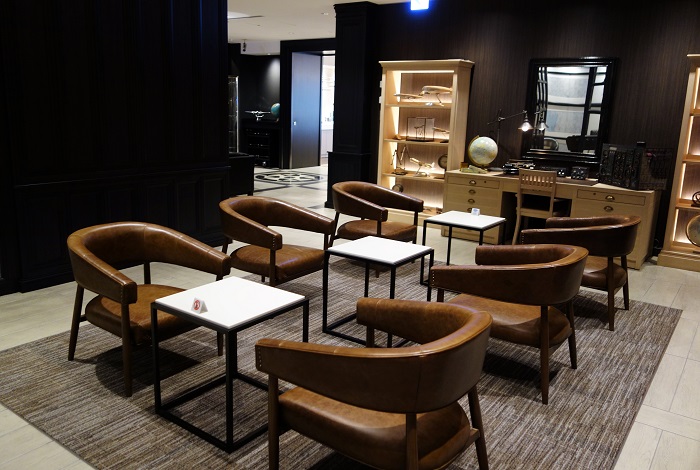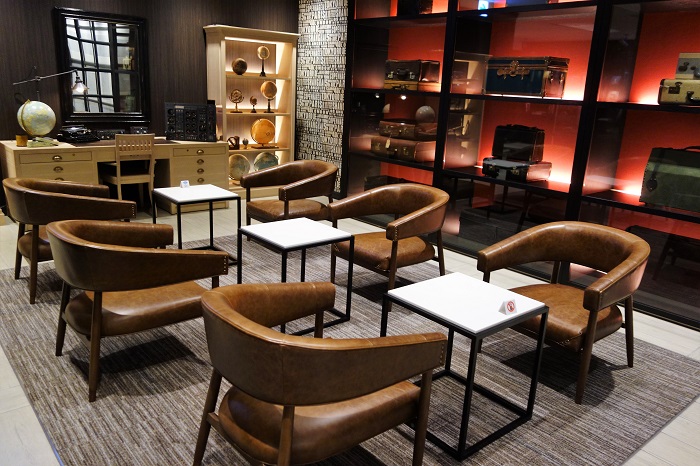 Buffet. Supposedly there is a teppan station staffed with chefs at certain times but I did not encounter this feature when I visited. The buffet display had a variety of foods that one would find in a good J class lounge like salad bar soup hot dishes sandwiches small plates and desserts. The catering was satisfying but it didn't strike me as being associated with a F lounge especially since there was no sit down facility where you could order "a la carte".
Buffet. Supuestamente hay una estación de teppan atendida por chefs durante ciertas horas pero no encontré este servicio cuando la visité. La exhibición del buffet tenía una variedad de alimentos que uno encontraría en un buen salón de clase J como barra de ensaladas sopa platos calientes sándwiches platos pequeños y postres. El servicio de comidas fue satisfactorio pero no me pareció al nivel de una sala F especialmente porque no había instalaciones para sentarse donde se podía pedir comida "a la carta".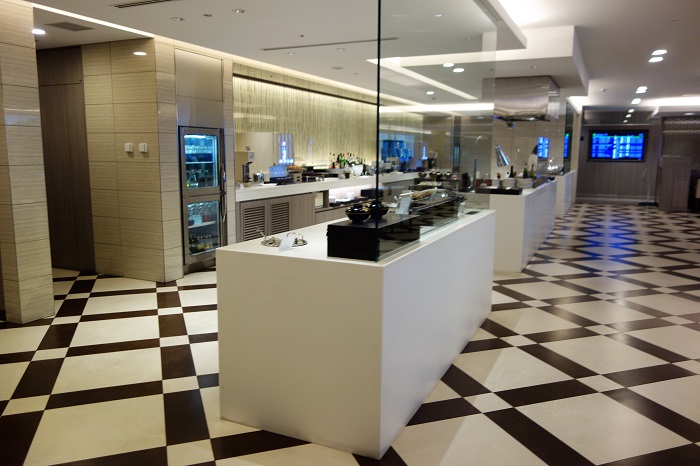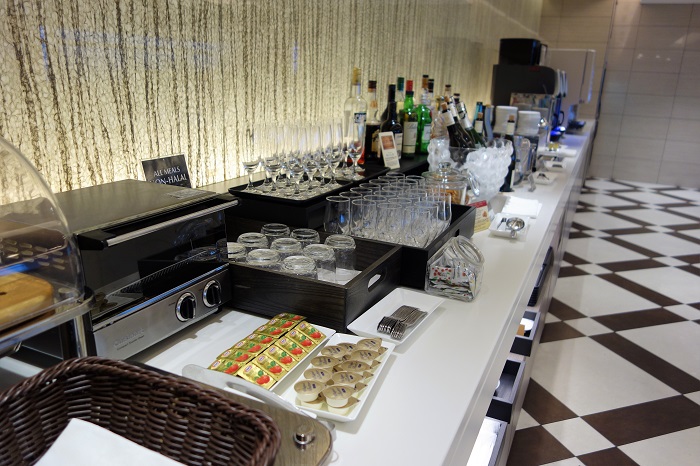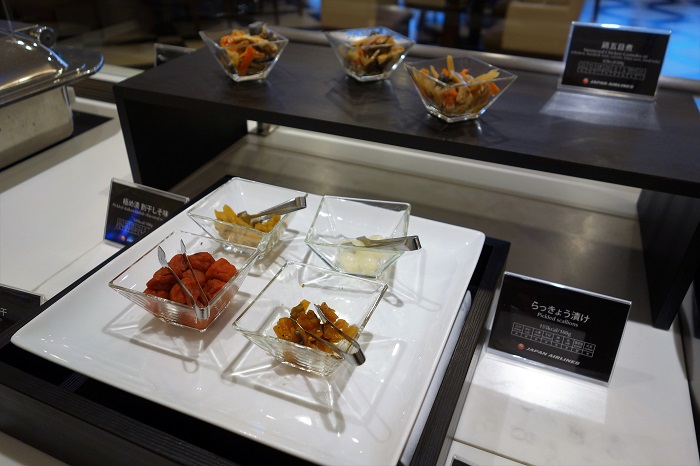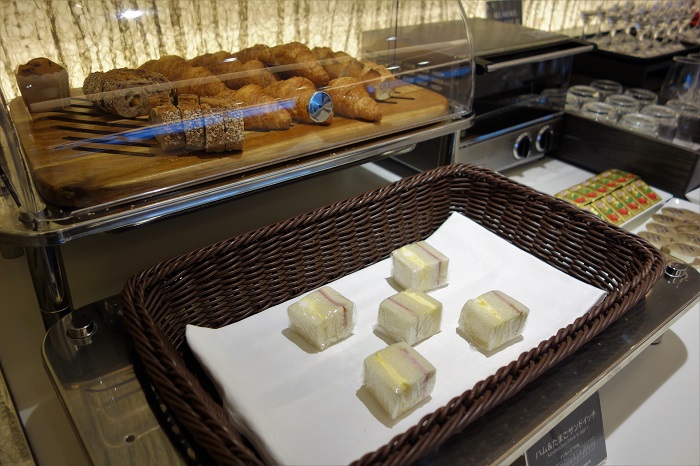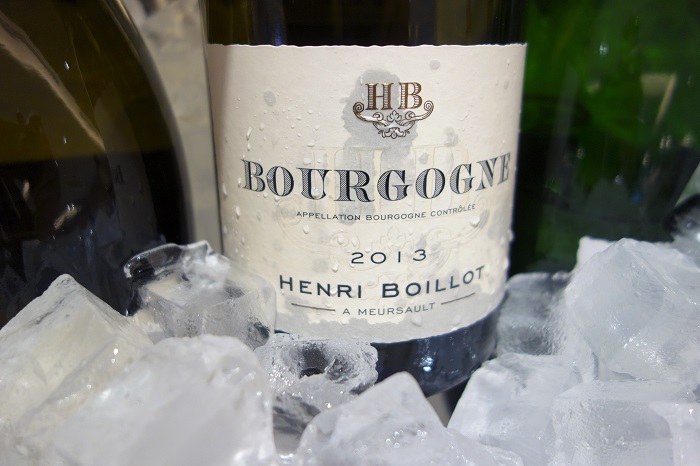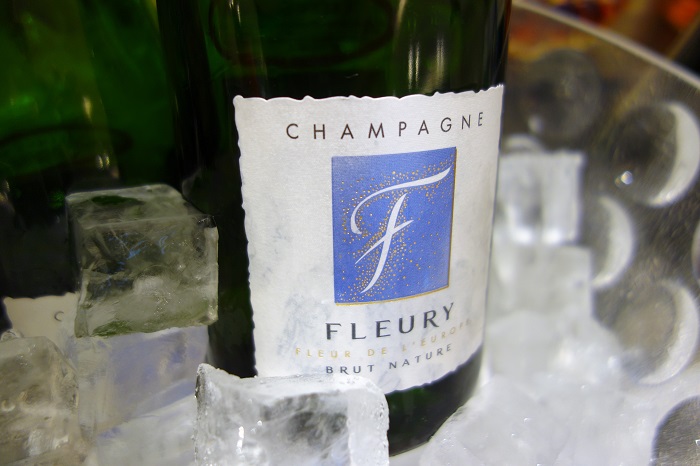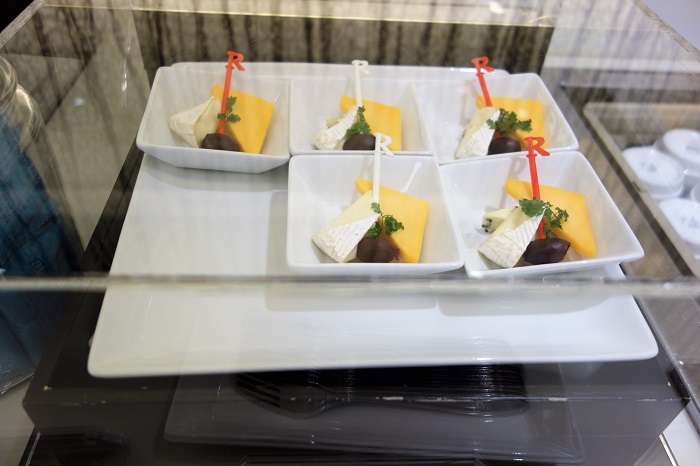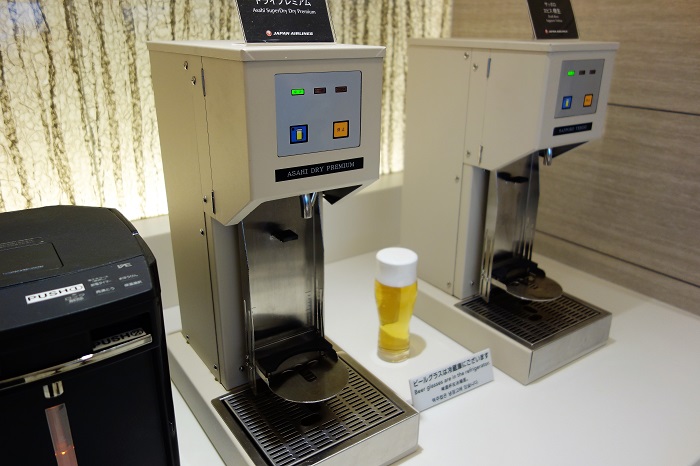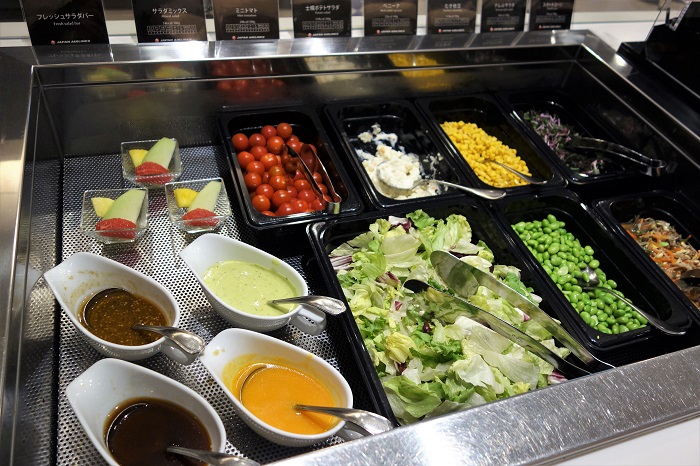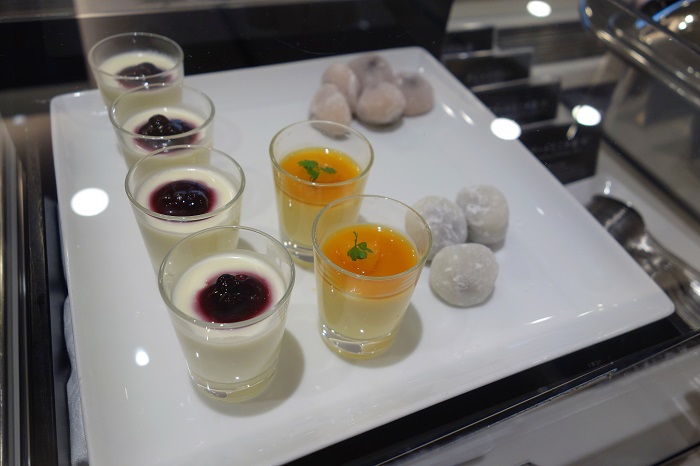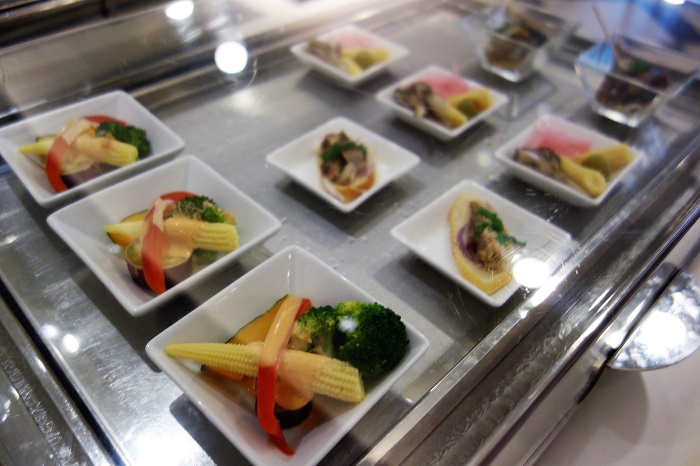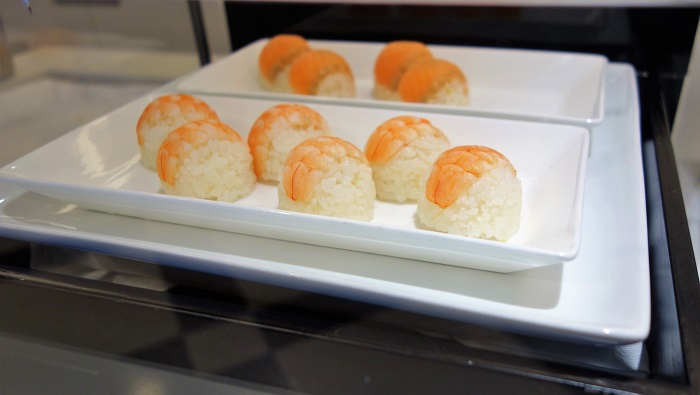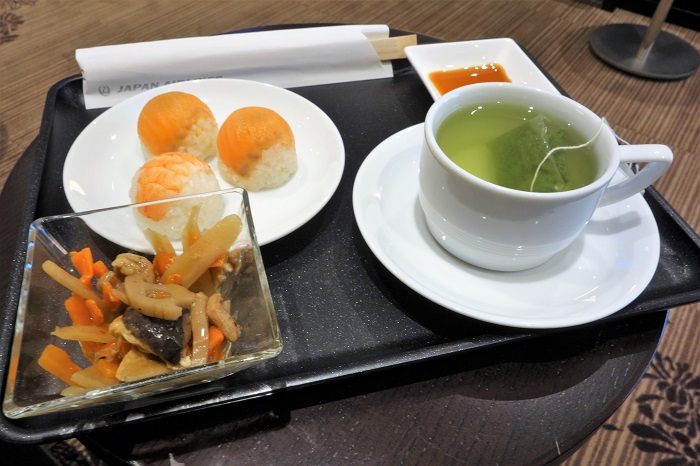 Curry rice. Yum!
Arroz con curry. Yum!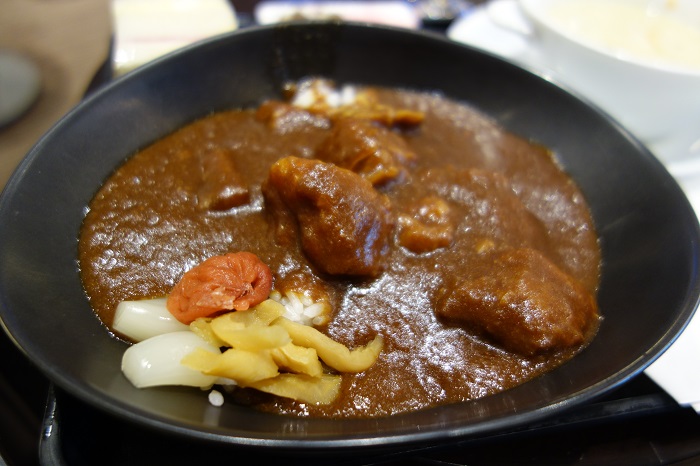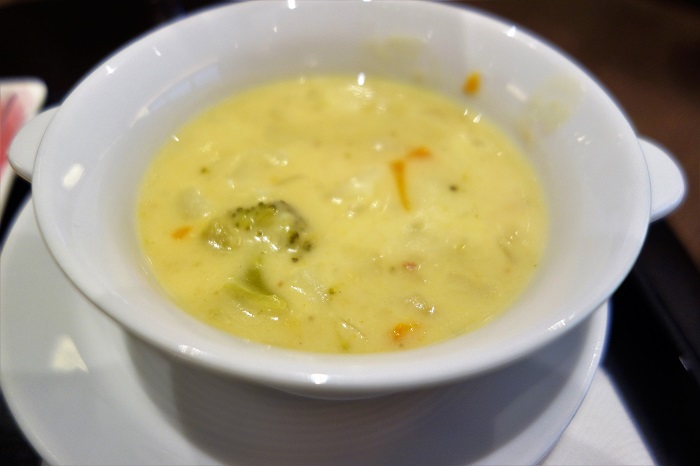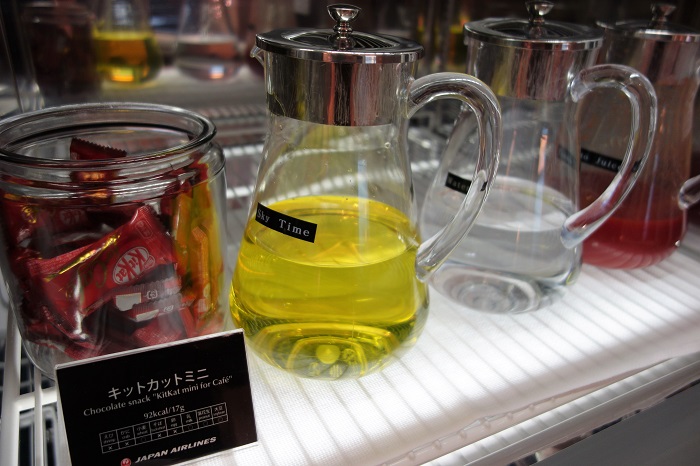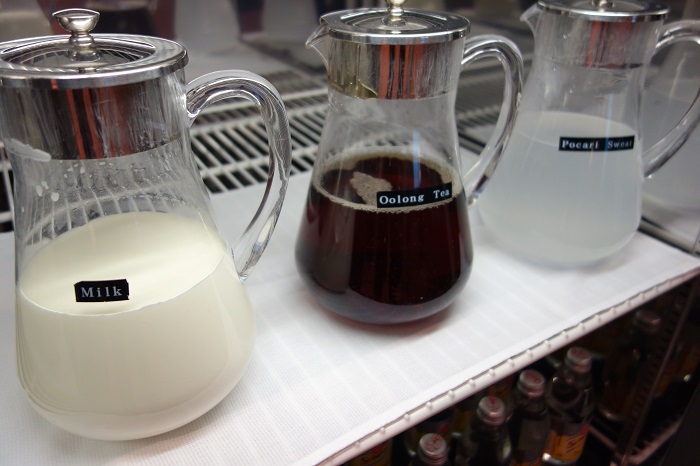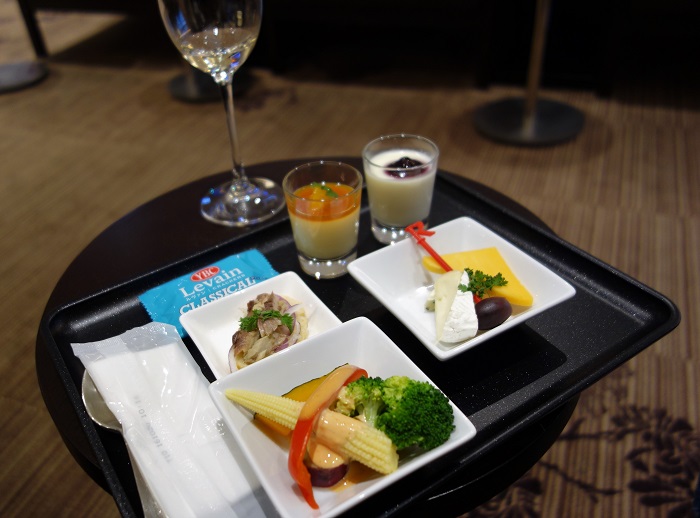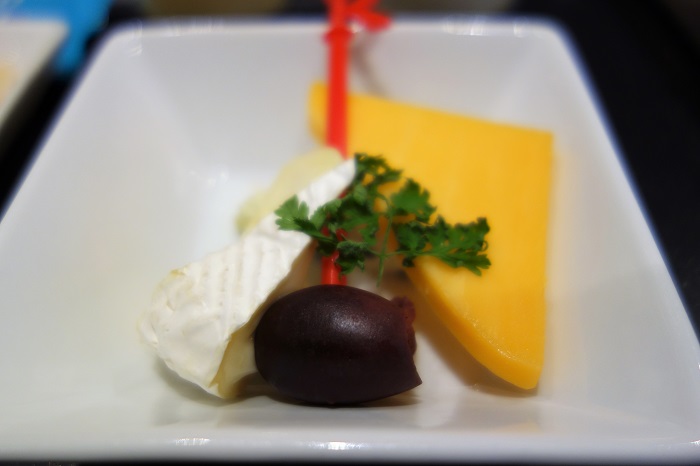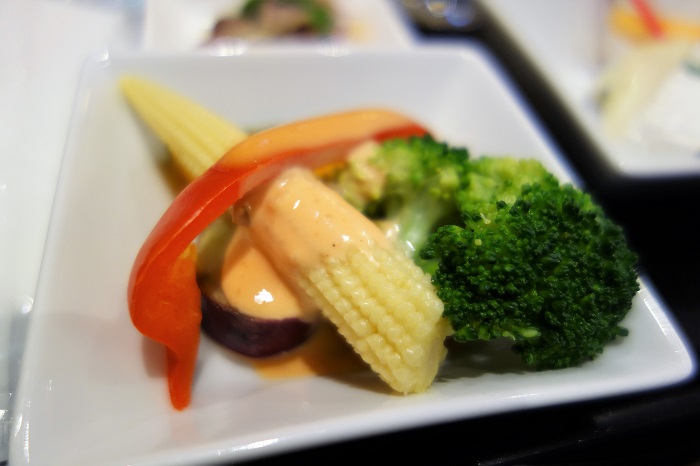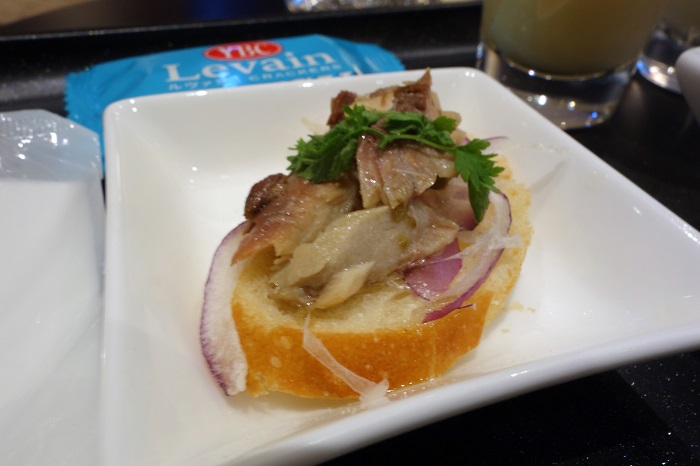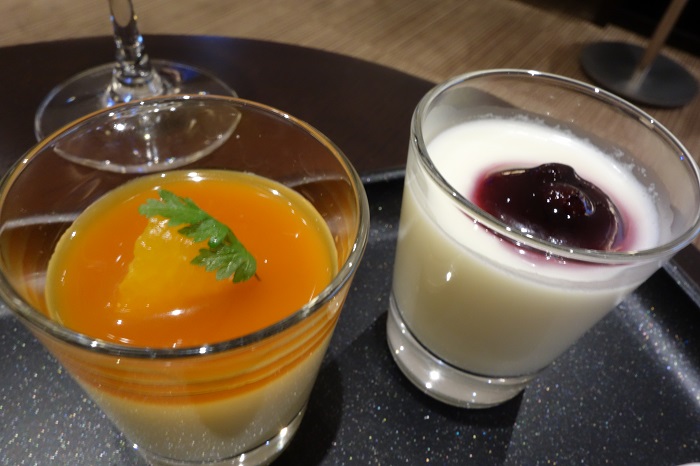 I wanted to take a shower before my flight and went directly to the shower reception desk. It appeared that these facilities were shared with the Sakura lounge and once I rang the bell a staff member appeared within seconds. I surrendered my boarding pass in exchange for a shower room key. The shower room was functional but did not have a toilet. It was just a sink and the shower.
Quería ducharme antes de mi vuelo y fui directamente a la recepción de la ducha. Parecía que estas instalaciones se compartían con el salón Sakura y una vez que toqué el timbre apareció un miembro del personal en cuestión de segundos. Entregué mi tarjeta de embarque a cambio de una llave para la ducha. El cuarto de baño era funcional pero no tenía inodoro. Era solo un lavabo y la ducha.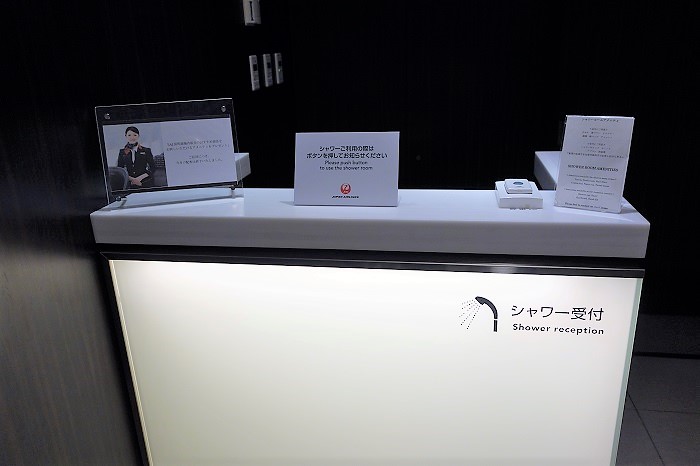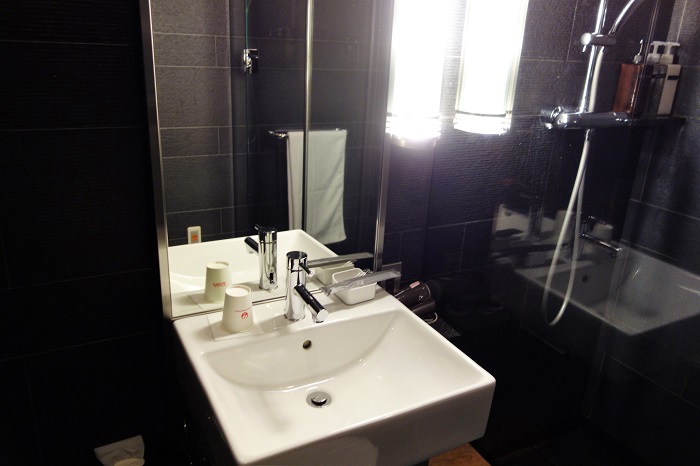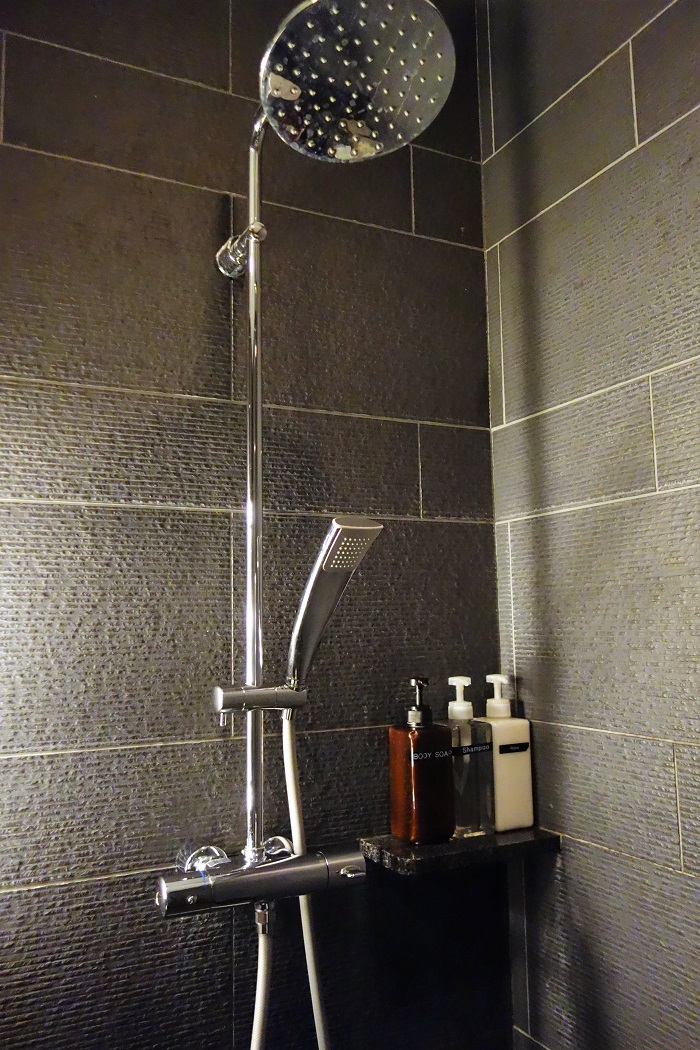 I was welcomed into the lounge and made a left turn to the noodles bar after reception. The dining area was pretty spacious and featured tables with individual stools and benches.
Despues de la bienvenida en el salón hice un giro a la izquierda para el bar de fideos en el comedor. Este era bastante espacioso y tenía mesas con taburetes y bancos individuales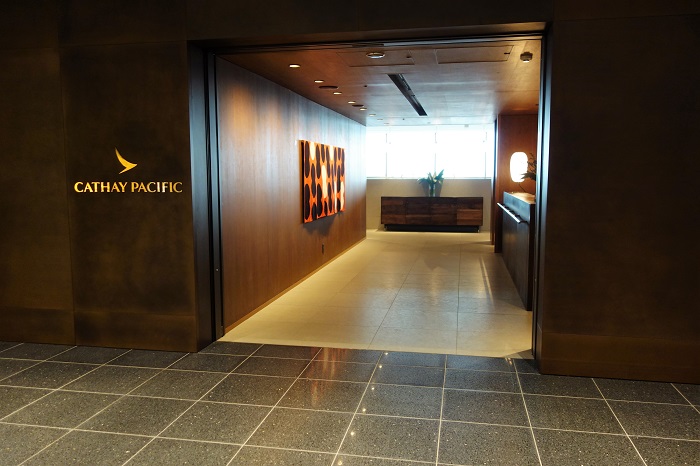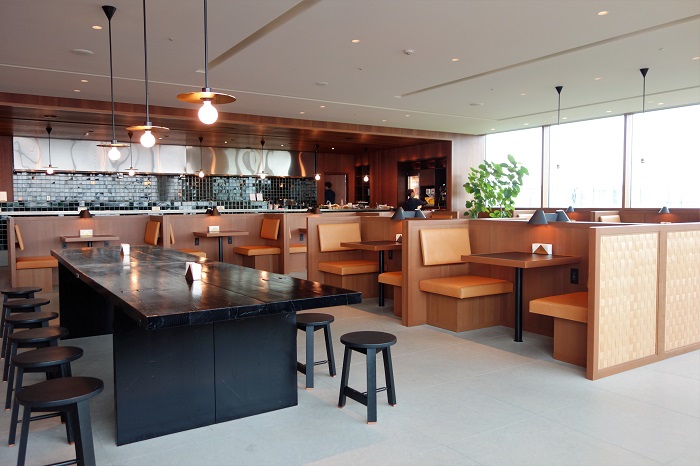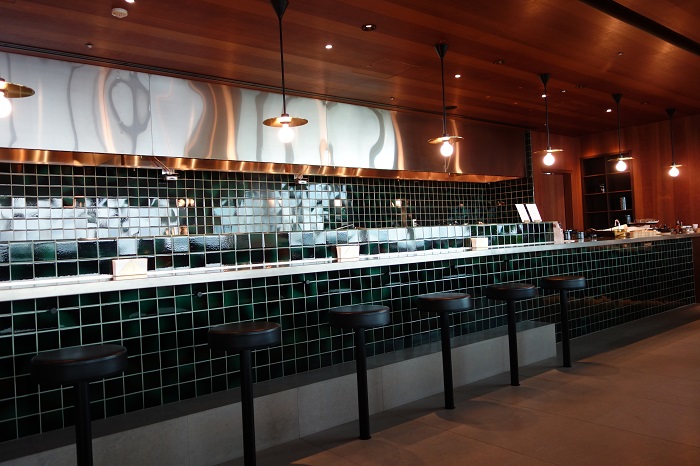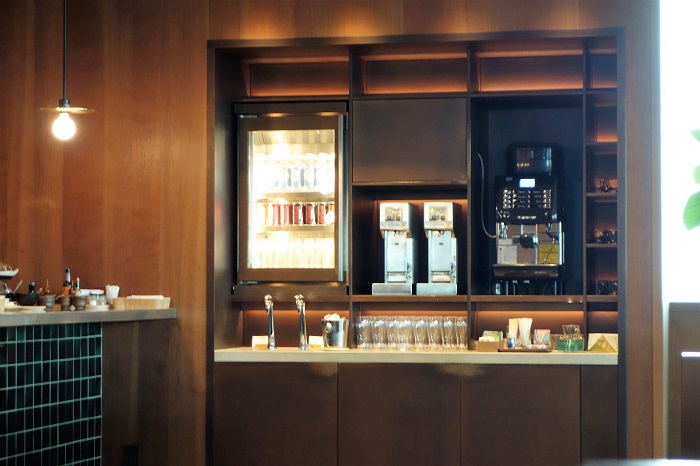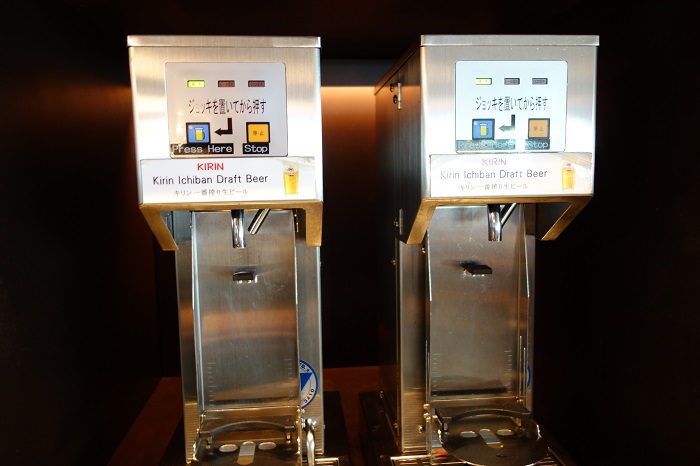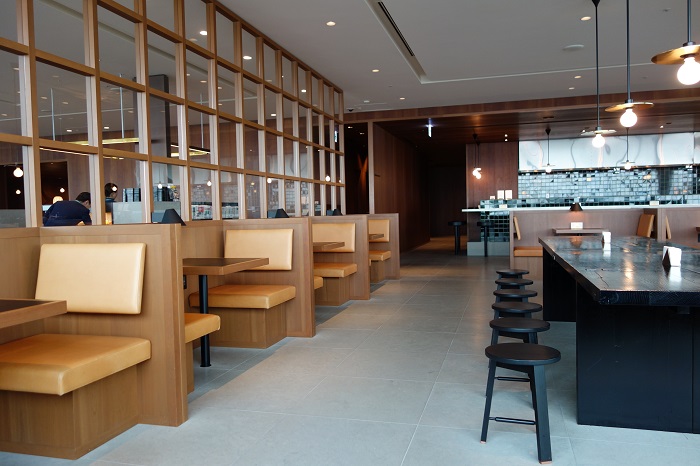 The rest of the lounge is a very inviting space with a mixed of open and private seating. The views were fantastic.
El resto del salón es un espacio muy acogedor con una combinación de asientos abiertos y privados. Las vistas eran fantásticas.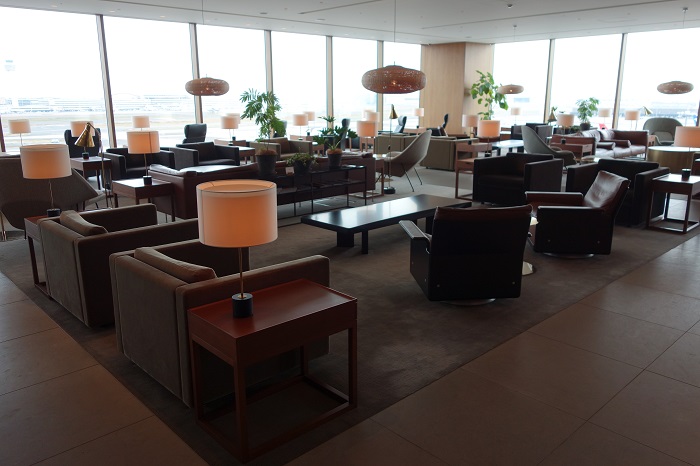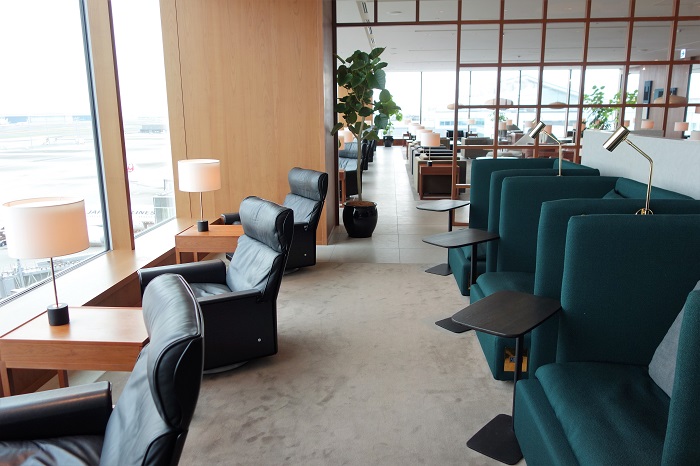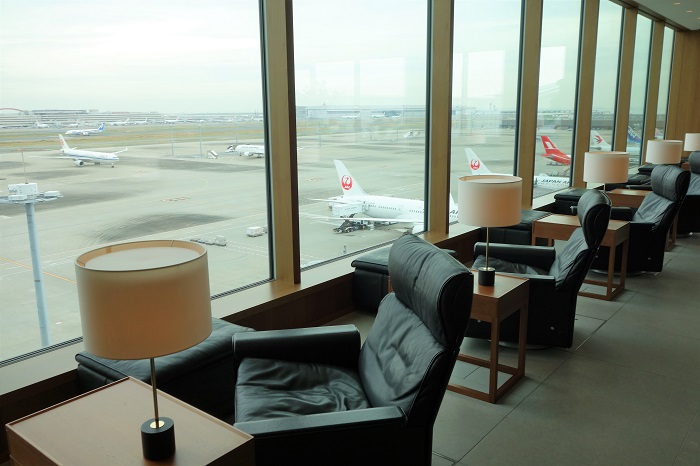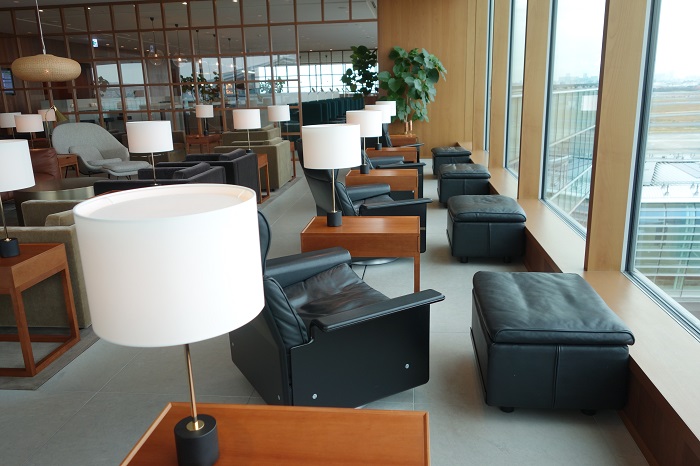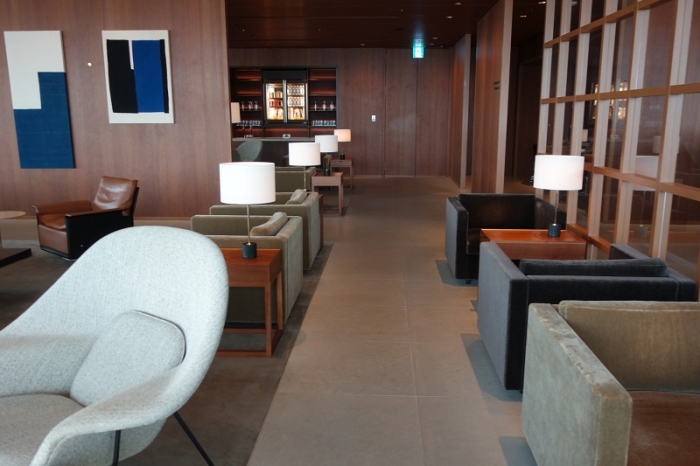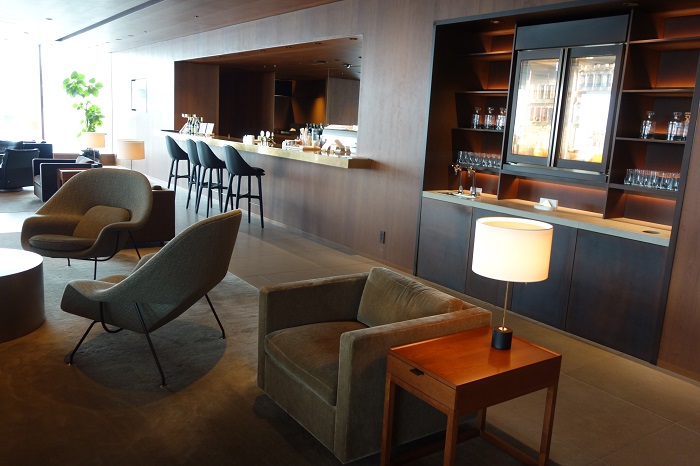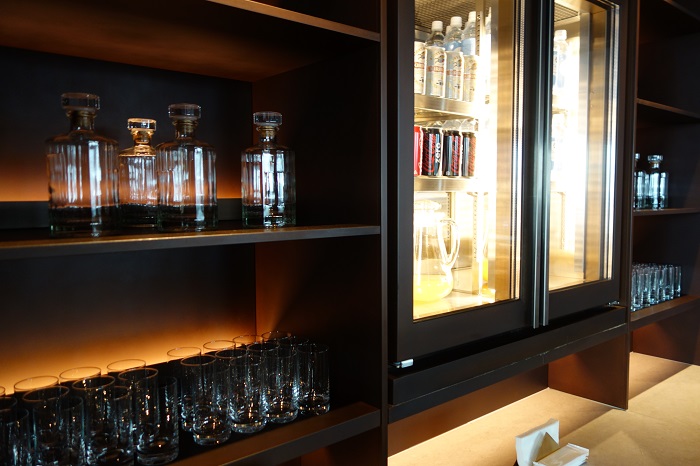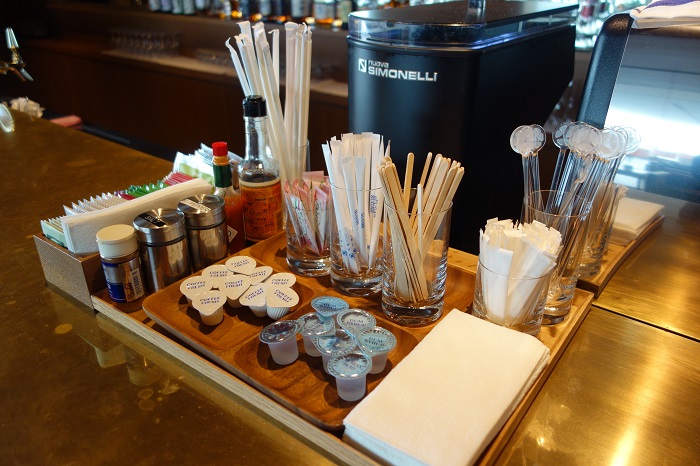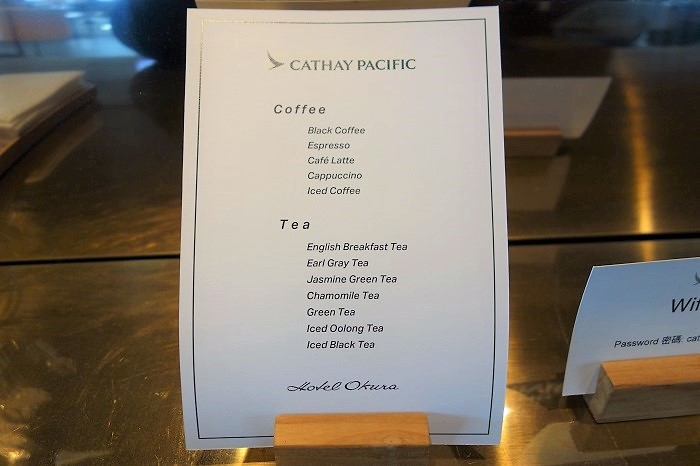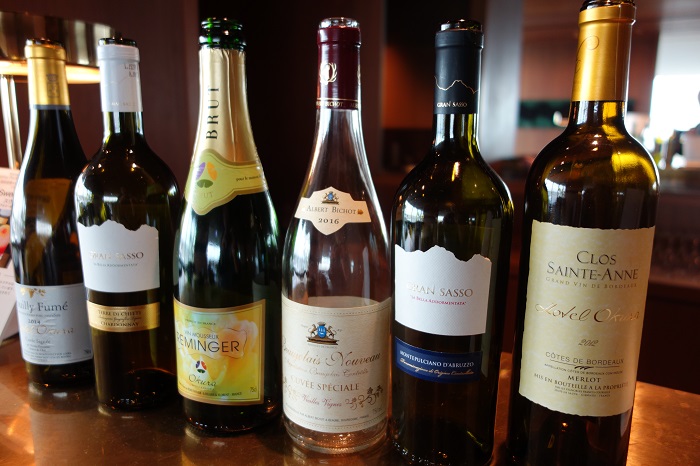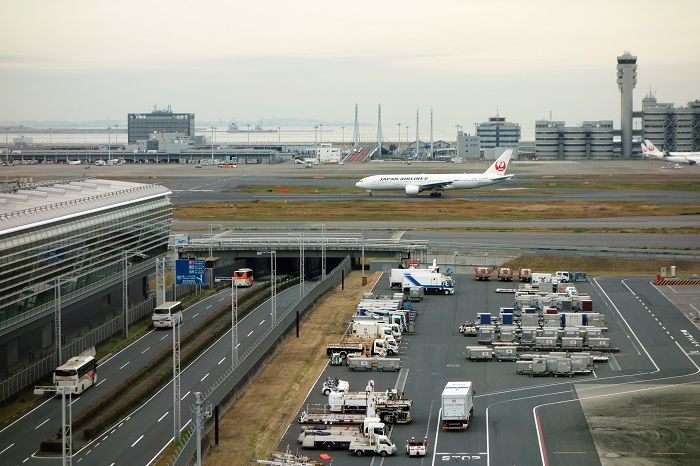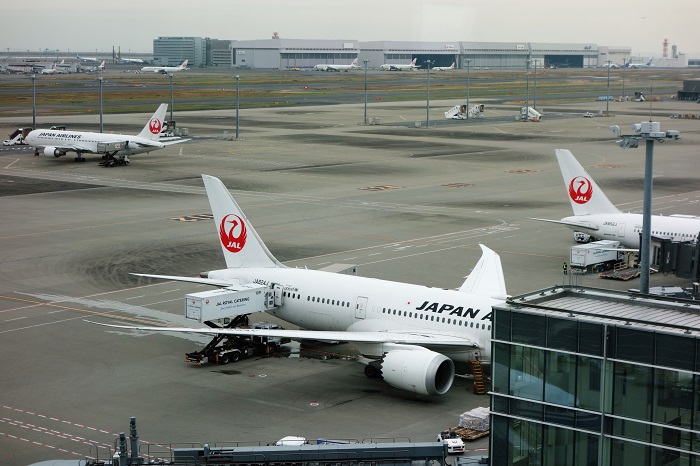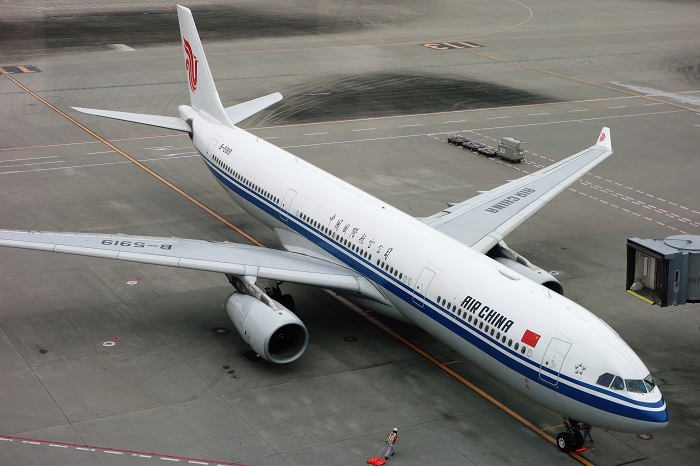 Right after reception there is a small counter where you could order the displayed snacks from an attendant. It seems that with this new set up CX is trying to eliminate the "help yourself" buffet concept. In a way this could be more hygienic and might translate into less waste.
Inmediatamente después de la recepción hay un pequeño mostrador donde puede ordenar los aperitivos que se muestran a un asistente. Parece que con esta nueva configuración CX está tratando de eliminar el concepto de buffet "ayudarse a sí mismo". En cierto modo esto podría ser más higiénico y podría traducirse en menos desperdicios.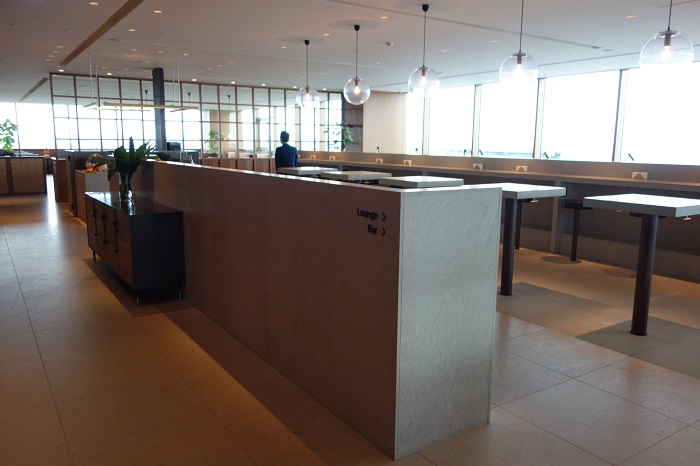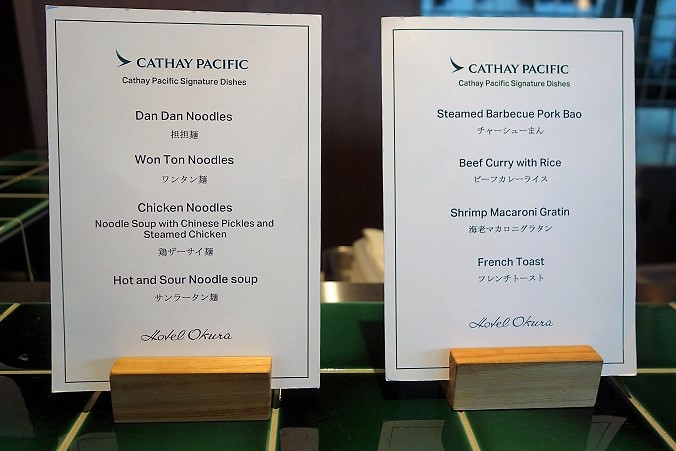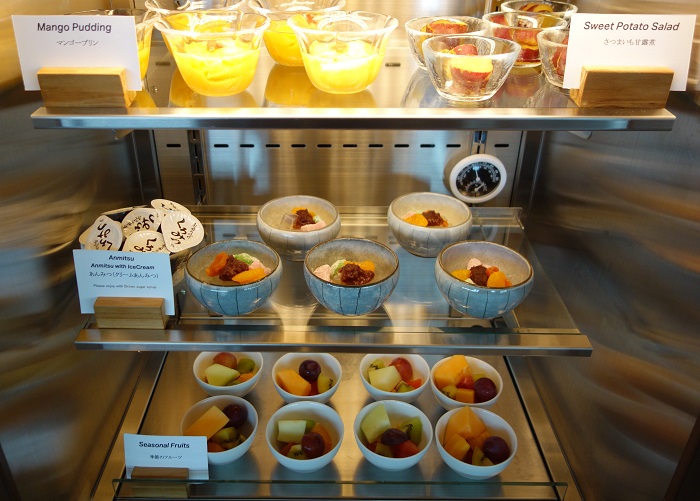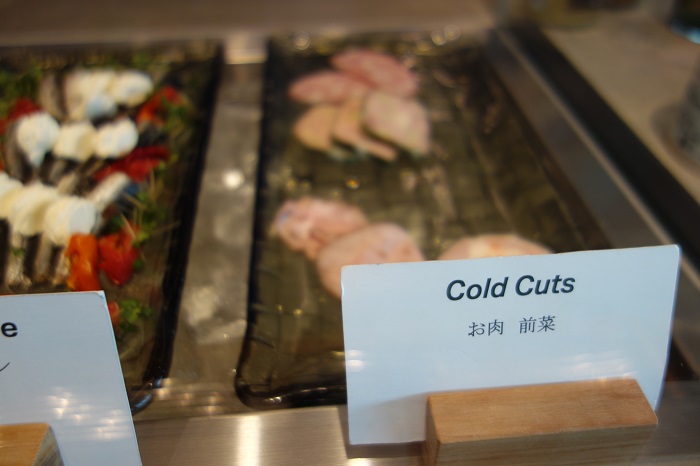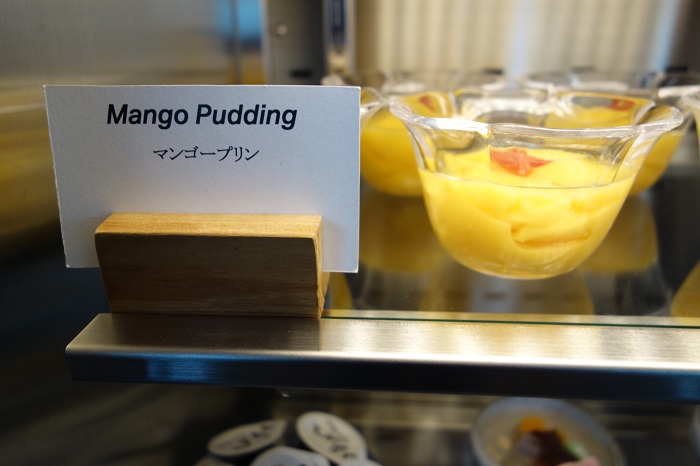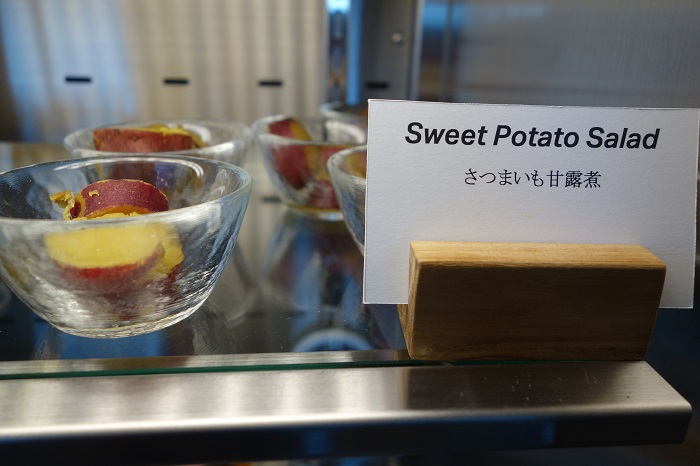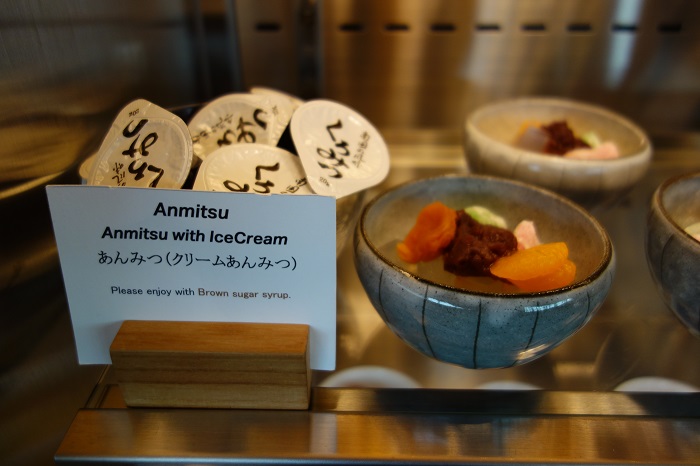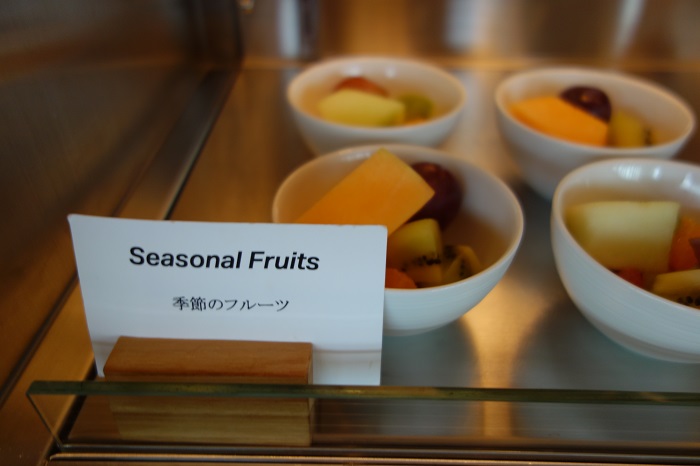 Snacks.
Bocadillos.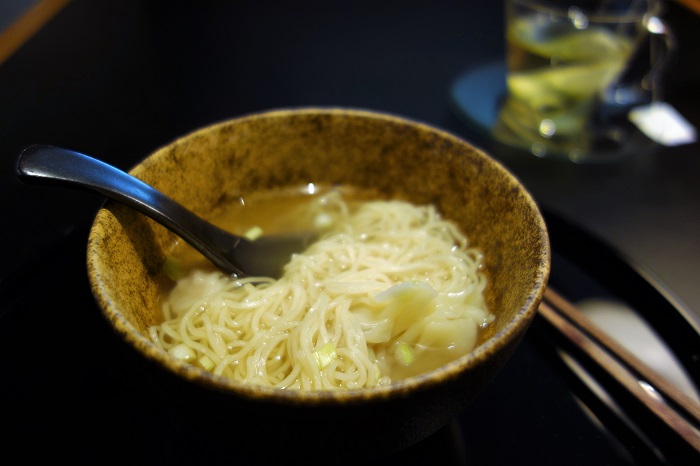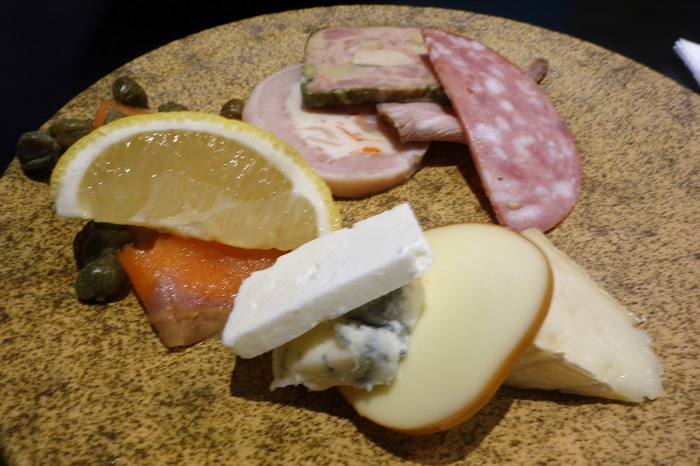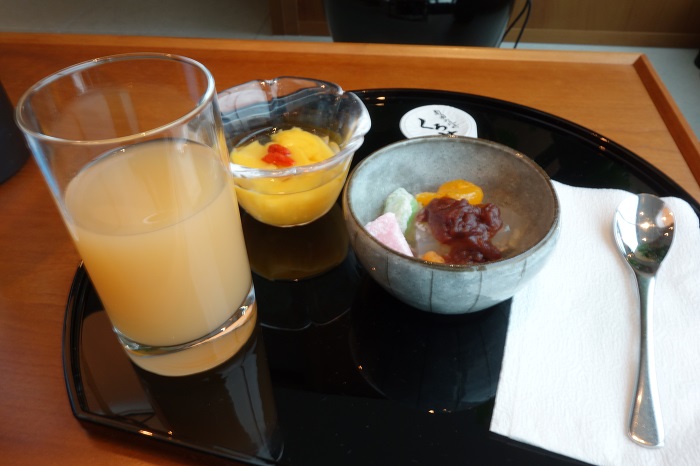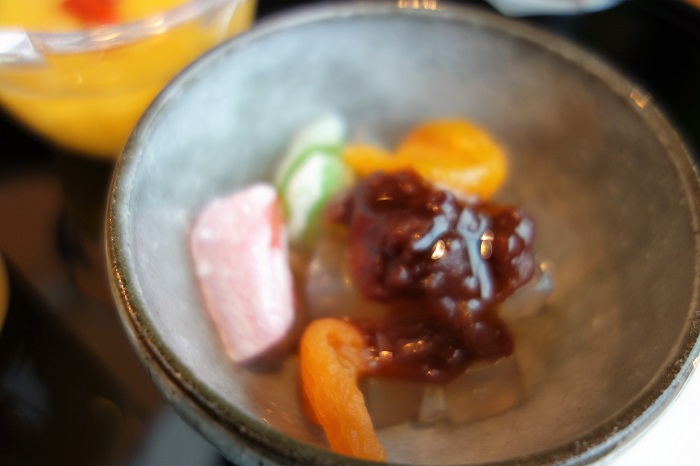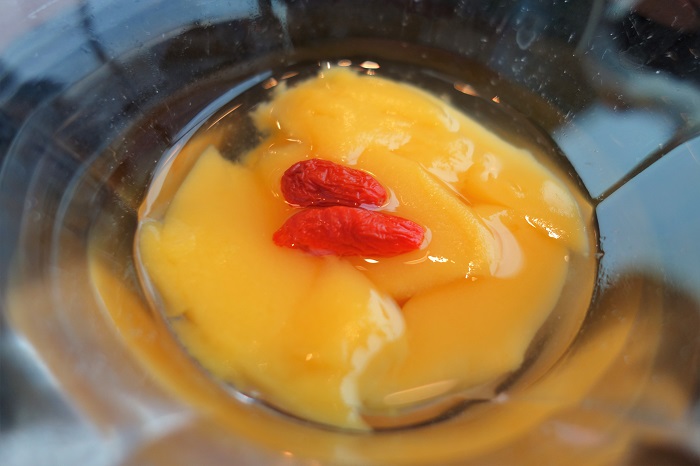 ========== Japan Airlines First Class Lounge ==========
Summary:
I was glad that I arrived at the airport early and had the time to explore the CX and JL F lounges. Personally I love the ambiance of the CX lounge and the staff was on top of things. The JL F lounge was spacious and the Red Suite is a great addition that sets it apart. I gave me the feeling of being a kid in a candy store and the JAL memorabilia on display is not to be missed. Catering was solid, but for being a F lounge I was expecting more in that league like a personalized meal service in a sit down restaurant or dedicated rooms to rest.

My first ride on the 787 proved to be an enjoyable one. Comfort was fine for a flight of this length, but the angled lie flat seats are not my favorites and it is a challenge to get out if you have a window and your neighbor's seat is fully extended. The plane felt quiet and the service from the crew aboard was great. I love their attention to details and appreciate the professional and smiling demeanor. The meal was well presented and delicious. I really enjoyed my dinner with a fish that was moist and perfectly cooked. I think serving ice cream as dessert in a premium cabin is a bit of a shortcut and I personally I would prefer a less "industrial" dessert.

Overall JL is a great carrier and I was happy with my choice.
Disfruté en haber llegado temprano al aeropuerto y de haber tenido el tiempo de explorar los salones CX y JL F. Personalmente, me encanta el ambiente del salon de CX y el personal estaba al tanto de todo. El salón JL F era espacioso y la Red Suite es una gran adición que lo distingue. Me dio la sensación de ser un niño en una tienda de golosinas y no se puede perder los recuerdos de JAL en exhibición. El catering era sólido, pero por ser un salón F esperaba más en esa liga, como un servicio de comida personalizado en un restaurante o salas dedicadas para descansar.

Mi primer viaje en el 787 resultó ser agradable. La comodidad estaba bien para un vuelo de esta longitud, pero los asientos de ángulo no son mis favoritos y es un desafío salir si tienes una ventana y el asiento de tu vecino está completamente extendido. El avión se sintió tranquilo y el servicio de la tripulación a bordo fue excelente. Me encanta su atención a los detalles y aprecio el comportamiento profesional y sonriente de todos los sobrecargos.. La comida estaba bien presentada y deliciosa. Realmente disfruté mi cena con un pescado jugoso y perfectamente preparado. Creo que servir helado como postre en una cabina premium es un poco común y yo personalmente preferiría un postre menos "industrial".

En general, JL es es una gran compañia y quedé bastante satisfecho con mi elección.